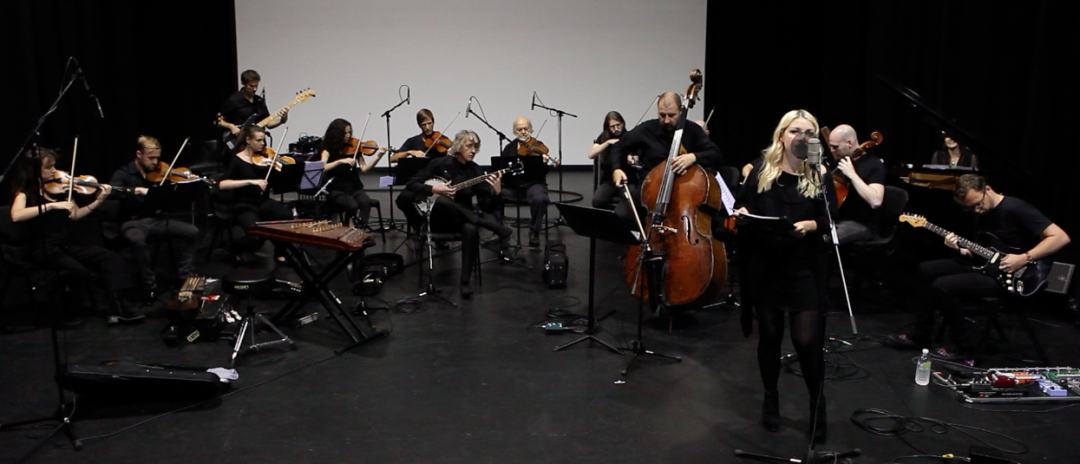 Some of Australia's most talented musicians and artists have joined forces to release the exquisite Nightingale Floor single alongside two distinguished short films in a bid to raise funds for the Orangutan Land Trust and highlight the plight of the orangutans whose habitats are being destroyed with the development of palm oil plantations.
Brisbane musician Sallie Campbell kick-started the project last year, enlisting a host of gifted musician friends to join her (including Kate Miller-Heidke on vocals and producer Daniel Denholm (Powderfinger, Australian Chamber Orchestra)) to help raise awareness of the impact unsustainable palm oil is having on the world's orangutan population.
"Nightingale Floors were cleverly built in ancient Japanese castles to creak and sing when walked upon to warn of intruders. Similarly, we need be the 'new nightingales' who signal danger to our fragile ecology," explains Campbell. "The situation is urgent, the last wild orangutans on the earth live in Malaysia and Indonesia and their habitat is being threatened by the development of Palm Oil Plantations. Unsustainable Palm Oil is in 50% of supermarket items and if people knew the food and products they were consuming everyday were wiping out forests and all the beautiful creatures there, they wouldn't buy them."
Campbell said the most important thing people could do to save the orangutan was to insist that the palm oil used in products was produced in a sustainable way, and not at the expense of orangutans and their forests. "As consumers we can do so much. We must demand proper labelling on palm oil products and tell companies that use unsustainable palm oil that we won't buy them until they change to a sustainable source… there is even a free application being developed for smart phones, a palm oil scanner which will be such a powerful tool"
Dedicated to the original 'people of the forest', Nightingale Floor is being released as a three minute single and a twenty-minute string orchestra opus written for an 11-piece string section, featuring three soloists and exotic folk instruments including Nyckelharpa, Baritone Bowed Psaltry, Hammered Dulcimer and 5 string Violin.
Written and directed by David Barker (MiniSumo) and starring exciting new film talent Sarah Snook (Predestination, Sisters of War), the film clip encourages people to believe in the idea of natural wonders. "We want to create a sense of hope while at the same time creating an emotive artistic statement that people will want to purchase"," explains Barker.
People can visit www.nightingalefloor.com.au to educate themselves on palm oil and donate and download either the full piece, the short film or the instrumental clip. All funds raised will go to the Orangutan Land Trust.
Nightingale Floor Music credits – Sallie Campbell: Composer, Mandolin, Five-String Violin, Nyckelharpa, Hammered Dulcimer, Baritone Bowed Psaltry. John Rodgers: Violin and banjo. Rob Davidson: Double bass. Keir Nuttal: Electric guitar. Vocals: Kate Miller-Heidke. Music producer: Daniel Denholm (Australian Chamber Orchestra, Powderfinger). Engineer: Chris Kneehause. Recorded at: Judith Wright Centre Brisbane