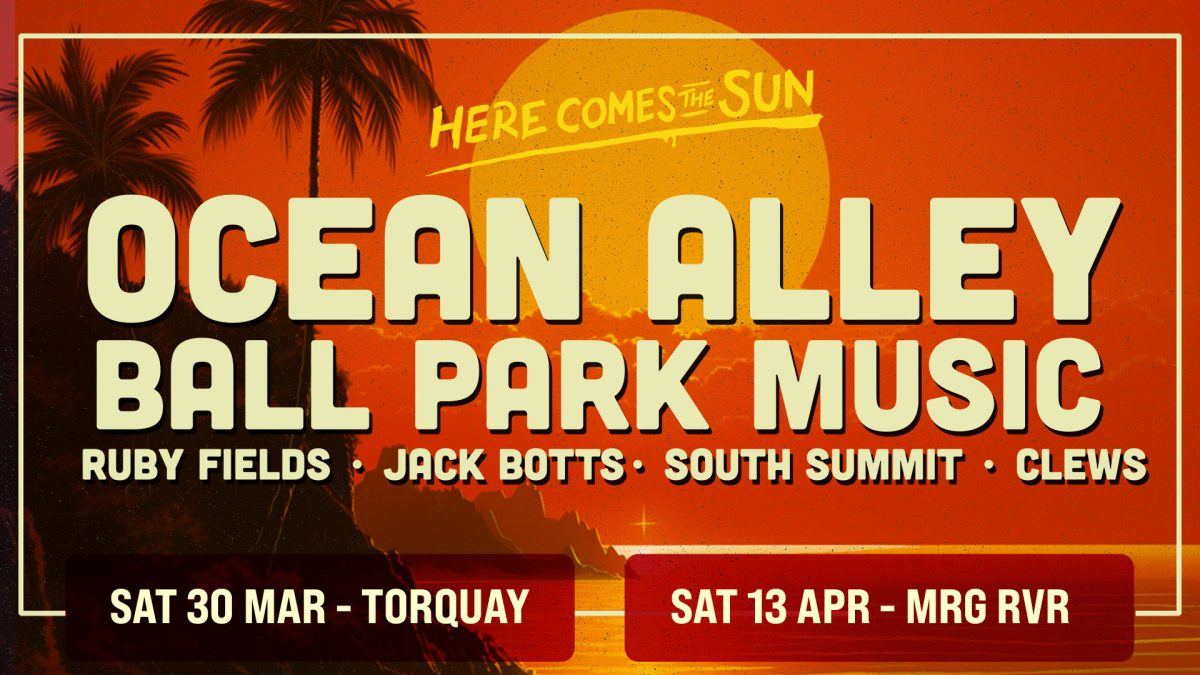 WA's beloved Here Comes The Sun festival is receiving a major upgrade in 2024, with the inclusion of an east coast instalment set to delight Victorian music lovers in March. Additional to the festival's flagship Margaret River 3 Oceans (WA) event on Saturday 13 April, the acclaimed festival will also swing through Torquay Common (VIC) on Saturday 30 March. The coastal festivals will see a haul of Aussie faves take to the stage, including Ocean Alley, Ball Park Music, Ruby Fields, Jack Botts, South Summit, and Clews, with more to be announced.
Tickets go on sale on Friday 8 December at 10am local time from www.hctsfest.com
Heading into its fifth year, Here Comes The Sun has become an institution in WA with seven successful events under its belt. The expansion into Torquay is massive, but not surprising, given the laid-back coastal vibe the festival is famous for. Fittingly, both dates will coincide with two of Australia's most important surfing competitions: the World Surf League Margaret River Pro, and the Bells Pro in Torquay.
Here Comes The Sun is one of the leading events programmed by Macro Music – the team responsible for Out Of The Woods, Good Day Sunshine and Sugarloaf Rock, as well as over a decade of high profile artist management. Filling the need for a world-class event in the Margaret River region, Here Comes The Sun was born, delivering artists like Tame Impala, Amy Shark, Crooked Colours, ShockOne, and more to the south west.
There is no more fitting a headliner for Here Comes The Sun 2024 than Australia's beloved psychedelic-surf-rockers, Ocean Alley. For the last decade they have sold out shows across Australia, North America, Europe, UK, and New Zealand – headlining to over 75,000 people globally in 2023 alone – including spots at Splendour In The Grass, Reading & Leeds (UK), and BottleRock (USA).
The winner of 2018's Hottest 100 for their anthem Confidence (now certified quadruple-platinum), Ocean Alley released their fourth album Low Altitude Living last year, captivating audiences with their psychedelic beauty. Citing their love for the ocean as their biggest inspiration, there couldn't be a more apt musical accompaniment to Australia's best surfing competitions.
Melancholic masters, Ball Park Music are one of Australia's most successful acts, producing six incredible albums in nine years (five of which debuted in the ARIA Top 10). Festival veterans, the beloved Brisbane five-piece have made sold-out appearances at Summer Sounds and Neck Of The Woods, as well as recently joining icon Paul Kelly's Making Gravy concert series.
When Ruby Fields' aptly-titled debut album Been Doin' It For A Bit debuted at #1 on the ARIA Charts, it confirmed that Australia absolutely loves the silky-voiced singer-songwriter. Shortly after, the world followed suit. One of the most talented and emotionally-moving artists in the country, Ruby Fields switches from a haunting solo delivery to a cyclonic full-band attack in the blink of an eye.
The image of Jack Botts surfing at sunset is one of the most perfect depictions of his aura as a human. His debut album Sucker For Sunsets is a genre-bending masterpiece that delves deep into his soul, displaying personal lyrics that run the gamut from pain to elation. Laid-back and blissfully breezy, his music is summer incarnate; filled with the highs, lows and in-betweens of real life.
WA's five-piece indie reggae band South Summit are the perfect soundtrack to summer on the coast. Melding the diverse sounds of Aboriginal, Māori and Western culture; South Summit have taken off since forming during lockdown – surpassing over two million streams, earning a nomination for Triple J Unearthed 'Artist Of The Year', and impressing crowds at Groovin The Moo, Falls, and Rolling Sets.
Clews are one of the most exciting new artists in Australia, fronted by the sibling power of Lily and Grace Richardson, whose love for '90s anthems shows in their incredible songwriting and lush dual vocals. Amassing fans all over the globe, Clews are well on their way to becoming a festival staple, wielding grungy melodic power that sits somewhere between PJ Harvey and Warpaint.
 TICKETS FOR HERE COME THE SUN FESTIVAL 2024 GO ON SALE ON FRIDAY 8 DECEMBER AT 10AM LOCAL TIME FROM WWW.HCTSFEST.COM
 HERE COMES THE SUN FESTIVAL
SATURDAY 30 MARCH | TORQUAY COMMON | TORQUAY, VIC
SATURDAY 13 APRIL | 3 OCEANS WINERY | MARGARET RIVER, WA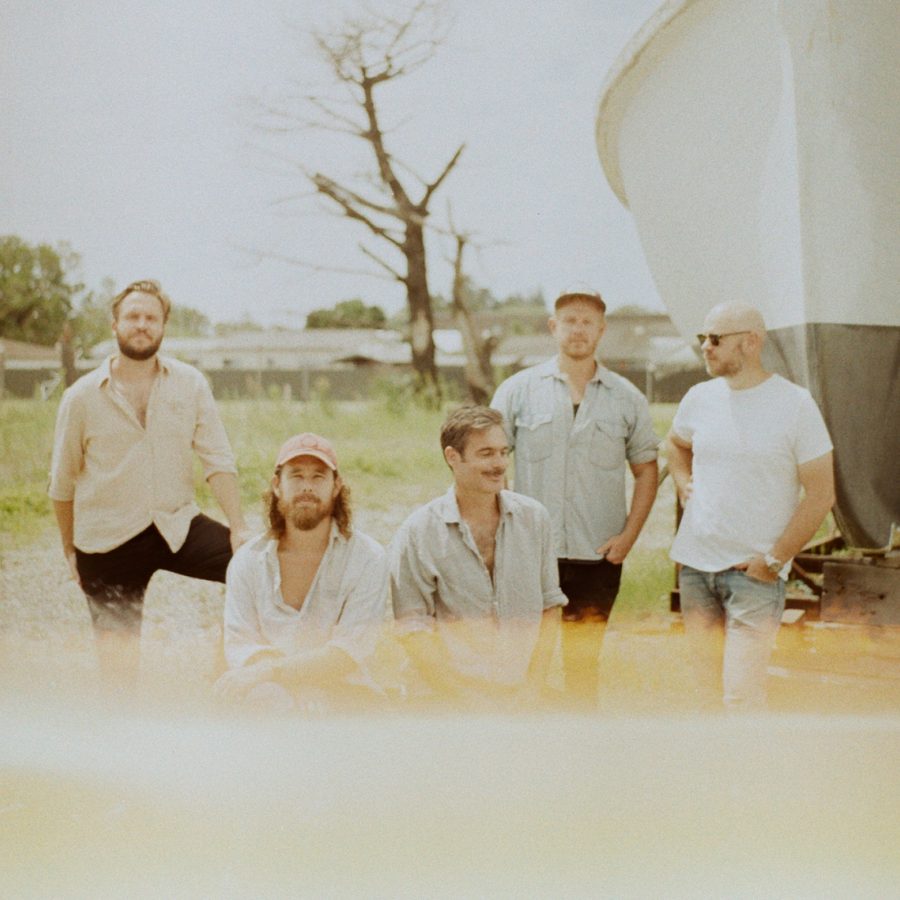 Adding their own dreamy spin to a 2002 classic, the brand new single Feel from Sydney's Boy & Bear gifts a lush and brooding interpretation of the Robbie Williams original hit song. Fresh off the back of a massive regional run of shows, with over 26,000 tickets sold nationally, Boy & Bear's latest rendition adds yet another stellar sonic reworking to their repertoire, joining their beloved 2010 cover Fall at Your Feet and 2020's Wicked Game.
Originally conceived during recording sessions for their latest full length album, the band's 2023 self-titled fifth studio release, Boy & Bear's take on Feel, a track originally made famous by British singer-songwriter Robbie Williams melts with languid ambience, woozy keys and the trademark undulating Boy & Bear sunny serenity flowing throughout. And with the recent Netflix docuseries Robbie Williams detailing the prolific popstar's career ultimately inspiring the group to master and release their interpretation, the end result of Feel itself feels like an unearthed treasure. "When recording new tunes for our latest record and exploring songs for triple j's Like A Version, we recorded an arrangement of Feel by Robbie Williams," the band shares. "The song itself, when stripped back to the chords, melody and lyrics is quite sad and haunting, which is unusual for a massive pop song. We really connected with that vibe and leant into that on our version. At the time we recorded it, we didn't have any plans for it, but then with the recent release of the doco on Robbie we thought it might be cool to put it out into the world rather than leave it gathering digital dust in the "old recordings" folder of our band hard drive. Hope you enjoy."
Since forming in 2009, Boy & Bear have persistently woven their own unique brand of musical magic, captivating fans across the globe with their sun-soaked and stirring brand of indie rock. A band hellbent on innovation, Boy & Bear have attained a level of staying power most artists could only dream of; and all without sacrificing their authentic vision and driving love for their craft. Achieving early career support from triple j and triple j Unearthed, Boy & Bear swiftly catapulted onto the national stage, releasing their double-platinum debut album Moonfire in 2011, which went on to snag five coveted ARIA award wins. Since then, 2013's Harlequin Dream and 2015's Limit Of Love only strengthened the band's luminous presence, with both albums charting at #1, and Harlequin Dream also marking the group's second studio album to go Platinum. Also via 2019's Suck on Light and 2023's self-titled full length, Boy & Bear have continued to grow and strengthen professionally amidst the ever-changing musical climate – and 2023 continued the dazzling Boy & Bear legacy further again with the recent release of their Lost Dreams EP, comprising found songs from their Harlequin Dream studio time.
Capable of breaking and/or mending hearts with their ever-growing sonic output, Boy & Bear's creative pathway has also led to them releasing two acclaimed cover songs previously, with their version of Fall at Your Feet recorded for the Tim and Neil Finn tribute album He Will Have His Way now 3x platinum, exceeding 40 million individual streams on Spotify, while the group's 2020 cover of Chris Isaak's steamy ballad Wicked Game has generated over 21 million streams and was certified Gold this year. Also having performed across the globe, including multiple world tours and appearances at the likes of Lollapalooza, Bonnaroo, and Splendour in the Grass, Boy & Bear are equally capable of enamouring onstage to sold out crowds at the Sydney Opera House as they are performing on Conan O'Brien or to a hometown crowd. And their largely sold out recent regional Australian tour showcased the rare magic beating at the Boy & Bear core, with some unforgettable moments forged alongside fans across the country. "To every single person who came to one of Aus or NZ album tour headline shows (more than 26,000 of you!) we can't thank you enough for your ongoing support and love," the band shares.
"These shows were truly very special to us, particularly after such a challenging few years and making the decision to go fully independent. It felt amazing to get back to so many places we haven't been for a long time and to share our new music with you. The vibe at these shows was awesome. Special mention and shout out to all the amazing artists that joined us on this tour, to our incredible crew, our team, loving partners and families for helping make it all possible."
"We've got some really exciting plans in the works for 2024 which we look forward to sharing with you soon," Boy & Bear conclude. "We hope you're going to be as excited about them as we are."
Feel is out now.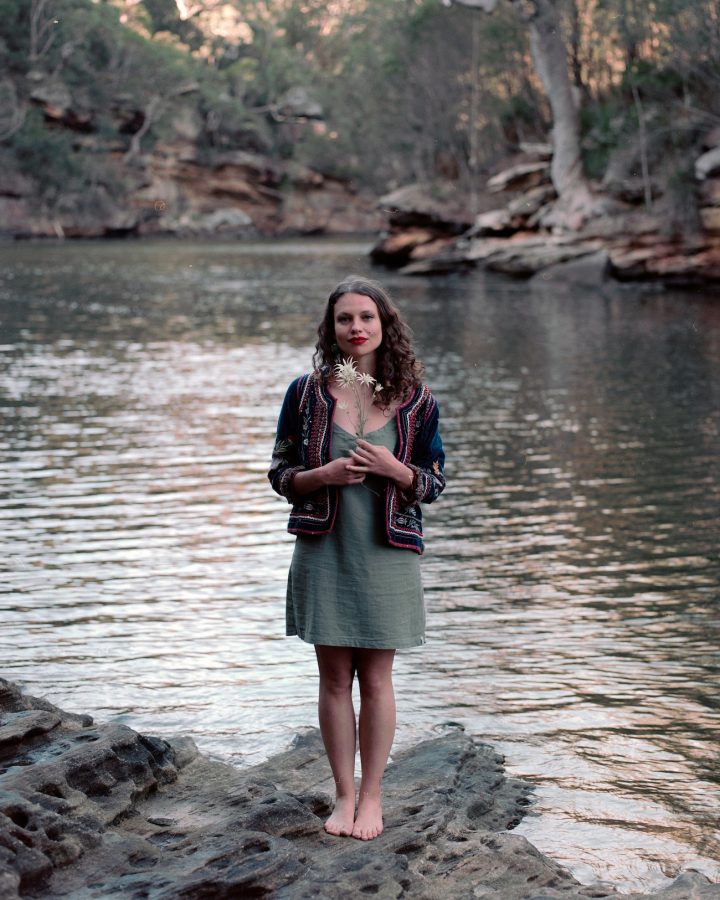 Bursting with warm grooves, supple basslines and glossy vocals, the divine debut single Chasing The Sun out today from Gamilaroi singer-songwriter Naomi Diane is an entirely sunny affair, capturing carefree summer vibes with polished delivery.
Now based in Melbourne but originally growing up in Wollongong, Naomi Diane's experience adapting from coastal living to city life ultimately sparked the core thematics at the heart of Chasing The Sun, with the buoyant and joyous track also drawing inspiration from Lianne La Havas, Tennis, Men I Trust and Harry Styles' sophomore 2019 album Fine Line. An upbeat amalgamation of pop elements, indie hues and jangly grooves, Chasing The Sun is the ultimate summertime bop painstakingly crafted to soundtrack warm adventures, as Naomi Diane explains, "Chasing The Sun speaks to the challenge of moving to a colder city, and finding a new community and a sense of belonging. And I have terrible circulation, so I ended up on many trips north to soften that chilly blow".
Inspired by her own personal experiences, with heightened inspiration also arriving courtesy of her housemates at the time, producer and co-writer Tyler Millott (The Terrifying Lows) and the sun-soaked stylings of fellow singer-songwriter Ben Wright Smith, Naomi Diane's maiden solo release traces its origins far beyond its joyous release in 2023, with the irresistible earworm recorded two and a half years ago amongst Melbourne's extensive lockdowns, as Naomi Diane elaborates, "I'm so stoked to finally release this track. It feels like the right time to put it out there. It was mostly recorded in our loungeroom in Eaglemont, after many nights around the fire listening to music and sharing hearts when Melbourne was shut down. I want to it to be pumped in car speakers as people get out of the city for adventures! I want people to dance to it under the summer sun, feeling free."
An all-round creative with equal passions for music and nature, Naomi Diane can usually be found hanging with friends at gigs, cooking, or exploring parks and rivers. Currently also balancing her burgeoning solo musical pursuits alongside working full time as a mentor and advisor for a non-profit Indigenous internship program and singing backing vocals for The Deans of Soul, Estelle Conley, Quinny and Angus Montaigne.
Naomi Diane's effortlessly affable and enamouring sensibilities shine as bright as the radiant tones on her brand new single; and it's certainly a beautiful beginning for plenty of future Naomi Diane magic still to come alongside plans to grow with and foster emerging Indigenous artists like herself.
"I always thought I'd be a folky or jazzy artist, but this pop banger has taken me down a really exciting path and I can't wait to let that flourish," Naomi Diane concludes. "An EP and some glorious musical collaborations are on the horizon for 2024. And providing space for mentorship, workshops and yarning circles for mob who want to get their music out there."
Chasing The Sun is out now