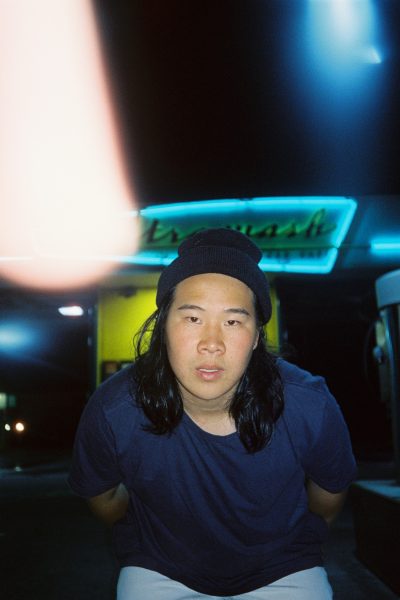 Melbourne-via-Darwin artist Local the Neighbour returns today with a shimmering new single Point Guard. An affably effortless outing from a seasoned musician, Point Guard pays tribute to loved ones and connections as Local the Neighbour, aka jazz-drummer-turned-indie-rock-connoisseur David Quested, explores personal thematics and jangly melodics with nimble flair. Amping up the optimism and wholesome feels, Local the Neighbour has also today released a Super 8 charmer, with the track's accompanying music video perfectly capturing Point Guard's endearing themes and vibes.
Point Guard bustles with plush reverb, driving beats and creamy vocals courtesy of David himself, calling to mind the effortless ease of Gang of Youths while also deftly showcasing David's soft gravelled croon. Entirely self-produced with mastering courtesy of Huntley Miller, who has also mastered albums for some of David's heroes Hippo Campus and Bon Iver, Point Guard is a glistening blend of congenial modernity and measured laidback ease as David continues to sharpen his blossoming adoration and innate knack for indie music. Infusing glowing sincerity stemming directly from David's own experiences, Point Guard takes the lead as a fun, friendly and frothy offering that is equal parts relatable and irresistible. Of the track's personal exploration into relationships and vulnerability, "Point Guard is about the gratitude and hopes you have for your loved one. To me it's about my girlfriend, but at the end of the day it's about anyone you love and find comfort in being vulnerable with – whether it be a friend, partner, family, or stranger on the street. For me it's tough to do that, so I'm glad I have someone I can do that with!"
The video for Point Guard perfectly complements this genial intent, with the single's music video bringing nostalgic home movie visuals to the table. Made entirely by David and his girlfriend, and complete with karaoke-ready bouncing ball lyrics, the clip follows an adorable narrative complete with dogs, waterfalls, sun-drenched trees and David and his girlfriend living their best peaceful lives. With real-life love on full display, it's impossible not to fall head over heels even more for Local the Neighbour's new single and clip, which was inspired not only by relationships but also a passion for antiques, as David explains, "The song is about my girlfriend, and for my birthday and Christmas (they're very close together) last year, she and some friends and family bought me a vintage Super 8 camera. I love old things and the history they have, so it felt really fitting to run a bunch of film through it and create a  music video with that camera, documenting parts of our lives at the time."
Originally growing up in Darwin before moving to Melbourne to study music, David's significant background in jazz has seen him study at both the Victorian College of the Arts (VCA) and at UCLA in Los Angeles alongside the likes of Clayton Cameron (Frank Sinatra, Sammy Davis Jr) and George Bohanon (Earth, Wind & Fire), while also performing with ARIA award-winning jazz musicians and appearing as a feature artist in the 2021 Melbourne International Jazz Festival. Fusing his infatuation with the boundless creativity of jazz with his ultimate musical passion, indie rock, David brings a sharp execution to his expertly-crafted new material under the Local the Neighbour moniker; an effortless lesson in technicality with an everyman charm that offers a musical companion to those needing hope in life's less-than-rosy moments.
Point Guard is out today.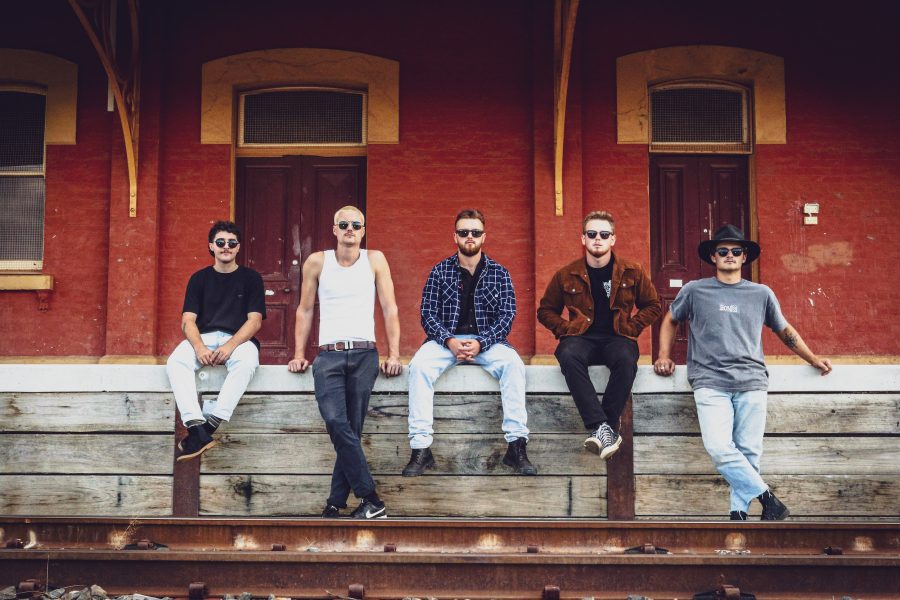 Northern Beaches rockers Edgecliff are back today in toe-tappin', riff-smashin' fashion with a brand new single I'll Be Gone. Laced with classic rock flavours and plenty of warm swagger, I'll Be Gone embraces the group's evolving hard edge aesthetics, while also perfectly setting the scene for what's in store at the band's impending show at Avalon RSL on Saturday June 11.
I'll Be Gone marks an energetic jewel in the Edgecliff story so far, offering a modern amalgamation of the group's classic and more recent rock and roll heroes, with its vocal melody inspired by Powderfinger, drum and basslines inspired by Foo Fighters, and some sparkling guitars and keys a là Wolfmother throughout the catchy track. Loaded with fresh licks and affable steeze, I'll Be Gone kicks off with a fiery riff before bursting into some technicolour rock and roll; from splashy drum fills to bright organs and vocals with just the right amount of rasp, I'll Be Gone also lyrically captures some of life's more fiery moments, as frontman Will Howell explains, "The lyrics are about an argument. Whether it is internal or with another person, it is up to the listener to interpret their meaning. Basically, the battle of right and wrong. With the music, we just wanted a fierce, snappy song, and it all came together after many songwriting sessions and a contribution from us all."
Recorded at The Grove Studios, I'll Be Gone saw Edgecliff team up with the legendary Callum Howell, aka the renowned producer, engineer and mixer for Ocean Alley, with mastering for the new single courtesy of Mike Tucci in New York. And while I'll Be Gone may mark the first single from the quintet in 2022, it certainly won't be the last, as bass player Kai Stackhouse confirms, "We've been waiting to release this single for a few months and we are so keen that we also have a few other new tunes ready to dish out ASAP. We are stoked!".
Comprising of high school mates Will Howell on vocals and lead guitar, Kai Stackhouse on bass, Jesse Calabrese on rhythm guitar, Nick Murace on keys and Jacob Lock on drums, Edgecliff is a band built firmly on a foundation of passionate songwriting and a desire to create original music (as well as actual building, with the band members currently completing apprenticeships in their respective trades). For Edgecliff, their shared creative passion is certainly a giant factor in propelling them forward; but it's also the group's internal connections that truly bolsters the end result, as guitarist Jesse says, "We think our good chemistry and friendship inspires our music. We can't emphasise how important our friendship is to our band".
From high school mates to bandmate brothers, Edgecliff bring their rich and varied musical upbringings and backgrounds into a hard-hitting coalescence of beats, chugs and rock and roll. And from emerging in 2021 with their first singles Waitless and Belong to the Crowd, to recently releasing Calling for More and, as of today, I'll Be Gone, Edgecliff are hitting the throttle as they continue into 2022, with even more live shows and new tunes to come. But for now, on Saturday June 11, fans in the band's local stomping ground can catch Edgecliff live in action at Avalon RSL – and it's set to be a hell of a time, as guitarist Jesse explains, "Fans can expect a good rock and roll show and a good time. We really focus on live performance and making each show a bit of a journey".
I'll Be Gone is out today, May 12.
Eskimo Joe frontman Kav Temperley today furthers his sublime solo endeavours, releasing a deeply poetic, ethereal-yet-pounding new single Machines Of Love And Grace. Tackling the themes of connectivity in the digital age, Kav has also today shared an affecting music video for Machines Of Love And Grace, simultaneously capturing the track's existential narrative and driving instrumentals alongside Kav's dynamic stylings.
Machines Of Love And Grace was not inspired by the Richard Brautigan poem (although Temperley does admire his work), but by the notion theorists have put forward that humans are outliers on the planet – a virus upon it – because we put so much emphasis on love and empathy, ideals which don't really exist in the animal kingdom. We are, in effect, machines of love and grace.
Machines Of Love And Grace firmly harnesses a sharp spotlight on Kav's passion and penchant for songwriting that first endeared him so heavily in the Aussie music scene and beyond, boasting driving alt rock flavours with moments of acoustic calm and lush, stripped-back beauty. With its glistening piano and Kav's familiar, soothing vocals, Machines Of Love And Grace steadily oscillates between fuzzy riffage and more introspective calm, much like its own brooding and ruminating subject matter, as Kav explains, "The song is about the complex and intimate relationships we have through our phones, seen through the lens of the last two-and-a-half years of the pandemic. Having devices in our hands has allowed us to have dinner with loved ones all over the world, all locked in our houses, and follow every moment of each other's life; whether we want to or not, it's often the first thing we see in the morning and the last thing we see before we go to sleep. With the touch of a button, anything and everything is available to us, good and bad." 
Filmed and directed by Eskimo Joe visual collaborator Cooper Gordon, the video for Machines Of Love And Grace perfectly complements the bittersweet themes explored in the song, with Kav intimately playing up the voyeuristic elements of social media and digital connection underpinning proceedings, elaborating, "Voyeurs to each other's lives, I'm asking the question: do any of us feel like we exist unless we're posting? And who are we when the camera lights turn off? We now live through these machines in the most intimate way, and we take them anywhere and everywhere we go! For the video, it was an idea of FaceTime without having Facetime," Kav says."Themost amazing thing is that the actor and the actress reacting to each other, they never met each other, yet on camera, it's like they're having an intimate relationship. It's absolutely fascinating and plays into the whole theme about the machines of love and grace."
 Founding the ARIA award-winning, four-times platinum band Eskimo Joe at just 19, Kav turned winning a band competition back in the day into a career just shy of 25 years as the frontman, bass player and songwriter for what would go on to become one of Australia's most beloved bands. The group's breakout single Black Fingernails, Red Wine spent 62 weeks in the Top 50, with Kav going on to write and record seven studio albums with Eskimo Joe.
Alongside Kav's extensive career fronting Eskimo Joe, he's also a seasoned performer both onstage and onscreen, having toured nationally and internationally in Asia, America and Europe, and snagging guest TV appearances on Spicks and Specks, Rockwiz, Good Morning Australia, The Project, Sunrise, The Sound and Rage. With performance highlights including the 2021 AFL grand final in Perth, Sound Relief, Live Earth, the ARIA Awards, Big Day Out, Homebake, Splendour In The Grass and Sundance Film Festival in Utah to name a few, Kav's also simultaneously embraced and emboldened his role in the industry as an expert and mentor in creativity and songwriting, developing the Create, Explore, Produce songwriting model while also creating various productions for causes and events, and judging numerous songwriting competitions.
Set to hit the road on tour with Eskimo Joe later in the year, the APRA, WAM and OceanFloor Music ambassador is currently in his seventh year of running creative workshops, 2022 finds Kav at his most potent and prolific yet as he gears up to release even more new music under his solo moniker.
Machines Of Love And Grace is out now.
ESKIMO JOE TOUR DATES
WED 28 SEP| THE TIVOLI | BRISBANE
FRI 30 SEP| ODEON THEATRE | HOBART
SAT 1 OCT| FORUM | MELBOURNE
TUES 4 OCT | THEBARTON THEATRE | ADELAIDE
WED 5 OCT | ENMORE THEATRE | SYDNEY
SAT 15 OCT | FREMANTLE ARTS CENTRE | PERTH