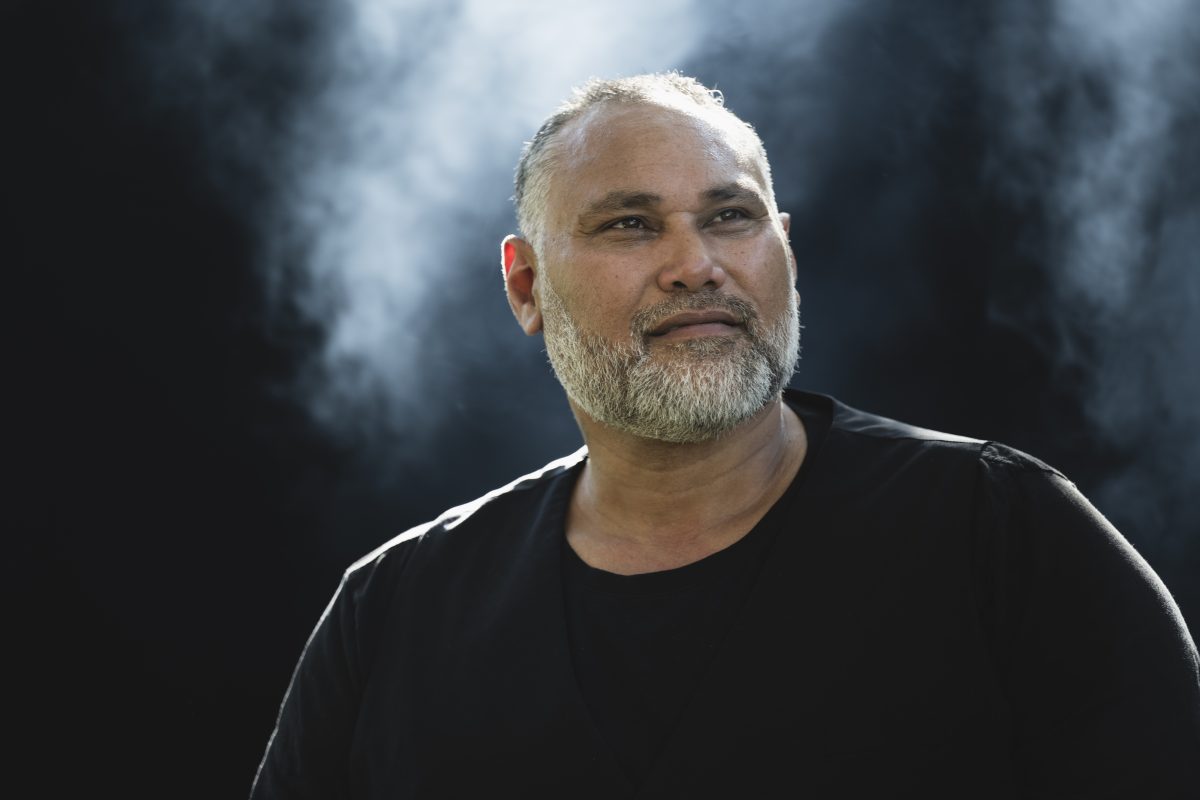 A magnetic meeting point of shimmering soul and beauty, the new single Until You Call My Name out now from Radical Son is a striking ode to gratitude and the power of love. A goosebump-inducing moment in time from the revered Kamilaroi artist with Tongan heritage, Radical Son will bring his new track as well as his forthcoming album Biliyambil (The Learning) to vivid life at the Sydney Opera House supporting Emma Donovan on October 20, as well as 2024's National Folk Festival.
Produced by Andrew Robinson, Until You Call My Name is a proud, calm, yet stirring outing from Radical Son, aka David Leha, inspired by its producer Robinson as well as Marcus Longfoot and Darkinjung local Phil Bligh. With humid percussion, bright piano and the emphatic, immersive vocals of Radical Son himself, Until You Call My Name flourishes in its beautifully-crafted simplicity, beating at its core with the magic sparked between Radical Son's work with Robinson and Longfoot at Full Circle Audio in Redfern, alongside Wantok Music. And for Radical Son, Until You Call My Name holds a special place in his heart, as he explains, "Proud of this piece. Of all the works that I have created, it's one of my favourites."
Another taste of Radical Son's highly anticipated sophomore album Biliyambil (The Learning) which is set for release in early 2024, Until You Call My Name is a poignant yet powerful ode to finding happiness in moments of chaos, with Radical Son's commanding vocals soaring above an ambient glow, declaring "I hear you call my name / Wanting to engage / We're all finding our way / We're coping with the struggle". And in a world consistently divided and full of unrest, Until You Call My Name offers a calming balm as well as a timely reminder to look for what matters most in the darkness, as Radical Son shares, "For those divided and lost, pulled or drawn in many directions both externally and internally. I'm mindful that we are all finding our way and that as hard as it may sometimes be just getting by in life, it is my hope that we find a way to live life, to love."
One of the mightiest and most compelling artists in the Australian cultural scene, Radical Son channels his experiences from his challenging past into immense power and resolve, with his trademark sound burgeoning with the urgency of hip hop and emotionally-charged soul, as witnessed by these new songs, and his first full length album 2014's Cause N'Affect. A festival favourite, cemented recently by his show-stopping cover of his mentor Uncle Archie Roach's Walking Into Doors, Radical Son has performed to standing ovations at Bluesfest, St Kilda Festival, VIVID, the AFL Dreamtime 2032 game, and the official Uncle Archie Roach memorial in Melbourne in 2022.
A highly-skilled concert artist, with performance with classical ensembles and high-profile collaborations under his belt with David Bridie, Emma Donovan, Frank Yamma, Lady Lash, Mau Power and Deline Briscoe, Radical Son's artistry also expands to film and TV, with credits including Defining Moments, a six-part NITV documentary exploring life-defining experiences, and theatre work, including the lead role of Pemulwuy in I am Eora at the 2012 Sydney Festival.
Studying as a musician at The Eora Centre for Visual and Performing Arts in Redfern, as well completing a Bachelor of Music from Newcastle Conservatorium, Radical Son's creative prowess is only matched by his otherworldly stage presence that equally transfixes and transcends with authenticity and sheer, compelling power. Cultivating his transformational life into his place as a bright fixture on Australia's cultural landscape, Radical Son's moving soul vocals and unique flair only strengthen with time, potently witnessed today via Until You Call My Name. And with an appearance on the horizon over the Easter weekend in 2024 at the National Folk Festival, a hub for the Australian folk community, as ever, magic is guaranteed when Radical Son takes the stage.
Until You Call My Name is out today via Wantok Musik and distributed by MGM.
FRI 20 OCT | SYDNEY OPERA HOUSE WITH EMMA DONOVAN, SYDNEY, NSW
Tickets available from https://www.sydneyoperahouse.com/birthday-festival/emma-donovan
THURS 28 MARCH – MON 1 APRIL | NATIONAL FOLK FESTIVAL, CANBERRA ACT
Tickets available from https://www.folkfestival.org.au/
Back and more potent than ever, beloved Australian rapper 360 is set to bring his electrifying stage presence and extensive touring chops to regional Australia this November for Part 1 of his 12 date Back To Life regional tour. Following the fully sold out first official run of shows in just under six years in June, 360's extensive upcoming tour will kick off on Friday November 3 at Village Green Hotel in Mulgrave, before journeying through regional Victoria, Queensland, New South Wales and the ACT, with more dates to be announced for Part 2.
Tickets go on-sale to the general public at 10am AEST on Tuesday August 29, and fans are invited to pre-register now at 360music.com.au to access pre-sale tickets from 9am AEST on Monday August 28.
Levelling up today's exciting tour news is the new freestyle track Most Wanted featuring 360's signature flow and earnest yet playful storytelling, heralding the revered rapper's welcome return. Performed as an unreleased track during his capital city Back To Life tour in June, Most Wanted finds 360 baring his soul over dark melodics and sparse, glossy tones. A sonically matured yet conceptually tongue-in-cheek outing, 360's freestyle prowess is on full display both on the track and also via its accompanying music video, consisting solely of tour footage from his June performances. And it was on this tour earlier this year that 360, aka Matt Colwell, was able to not only reconnect with his creative soul and flourish in his natural habitat on stage; it also offered him a chance to trial touring in new ways that would ultimately place his health at the forefront, thus the decision to split Back To Life's regional adventures into parts, as 360 elaborates, "As much as I love touring, it's always been quite taxing both physically and mentally in the past. So, since returning after a long break, I made sure to put my health before anything else. I kept the last tour to 1-2 shows per week, which isn't a lot at all, just to ease into it and dip my toes in so to speak and see how I went. All went well, so this time I'm upping it to 3 shows per week. This will be more gruelling so I decided to do a month of touring through November, have a month off through December and then finish off part 2 early next year, rather than doing them all back to back. I used to never care about my health and wellbeing, at least not like I do now. Now I follow a strict regime, I have to hit the gym for an intense workout on show days, I follow a strict routine before each show to warm up too. I could achieve more if I went all out doing 5 shows a week and fitting in as much travel as possible over multiple months, but for me that's a quick way to burn out."
An ARIA Award-winning, multi-platinum pioneer, 360 has never been one to do anything in halves, with the rapper swiftly cementing himself on the Australian scene via his 2008 debut album What You See Is What You Get, before the game-changing 2011 release Falling & Flying catapulted him into a whole new stratosphere. Hailed for its emotive weight, authenticity and genre-fluid finesse, Falling & Flying paved the way for 360's continued domination with 2014's Utopia and 2017's Vintage Modern firmly sealing his legacy. But amongst his renowned battle rapping dexterity, searing creative innovation and collaborations, 360's path has simultaneously been lined with mountains, from an accident in 2010 that almost upended the release of Falling & Flying to his battle with addiction and mental health issues in later years; all moments in time that ultimately helped guide and strengthen 360's resolve, leading him to new music as well as his triumphant return to performing in 2023, as 360 explains, "When I was working on these new songs I was still recovering after going through an extremely dark period of my life. I was still fighting my way through the darkness, now I'm in a much better place. There's been no real agenda with the music, it's been more about focusing on myself and getting happy/healthy and just releasing whatever songs we make in that process. I've been loving that plan of attack, So I'll keep that same thing going and we'll see where it all ends up."
Re-energised by his return to stage, 360 is primed to bring his exhilarating live show to regional Australia, with his Back To Life Part 1 tour guaranteed to satiate past, present and future fans of the magnetic rap maverick. Expect unapologetic and heartfelt storytelling from an artist who can tackle any style and make it his own. And, as 360 reveals, there are plenty more surprises lying in wait for fans across Australia starting this November: "It had been about 6 years since my last tour, so there were a few cobwebs to shake off but once it got going it was super fun to be back up there. I'm keen to see how the new songs go down in each town we play, to see what connects the most. Also, it will be nice to get out of the Melbourne cold for a bit! Expect a banging set chock full of new songs, old classics, mixtape bangers, forgotten bangers and more. I've got a few tricks up the sleeve that people won't be expecting."
Tickets to the Back To Life Regional Tour Part 1 are on sale from 10am AEST Tuesday August 29 from 360music.com.au.
The past few years have been extremely tough for people who work in music, and for many, continues to be so, so 360 is jumping in with Support Act on his Mulgrave, Frankston, Ipswich, Noosaville, Gladstone, Airlie Beach, Townsville and Cairns shows. Simply purchasing a ticket to these shows will result in a donation of $1 matched by a further $1 from Live at your Local being donated to music industry charity, Support Act. That's $2 for every ticket sold going directly to Support Act and the amazing work they do with music workers, artists and crew. For more information, visit ausmusictshirtday.org.au or supportact.org.au
360 – BACK TO LIFE REGIONAL TOUR PART 1
Tickets available from 360music.com.au
FRI 3 NOV | VILLAGE GREEN HOTEL, MULGRAVE VIC | 18+
SAT 4 NOV | PIER BANDROOM, FRANKSTON VIC | 18+
MON 6 NOV | LAMBYS TAVERN, GEELONG VIC | 18+ (CUP EVE)
THU 9 NOV | RACEHORSE HOTEL, IPSWICH QLD | 18+
FRI 10 NOV | V ROOM – VILLA NOOSA, NOOSAVILLE QLD | 18+
SAT 11 NOV | HARVEY RD TAVERN, GLADSTONE QLD | 18+
THU 16 NOV | MAGNUMS, AIRLIE BEACH QLD | 18+
FRI 17 NOV | DALRYMPLE HOTEL, TOWNSVILLE QLD | 18+
SAT 18 NOV | EDGE HILL HOTEL, CAIRNS QLD | 18+
THU 23 NOV | BEER DELUXE, ALBURY NSW | 18+
FRI 24 NOV | THE BASEMENT, CANBERRA ACT | 18+
SAT 25 NOV | WAVES, WOLLONGONG NSW | 18+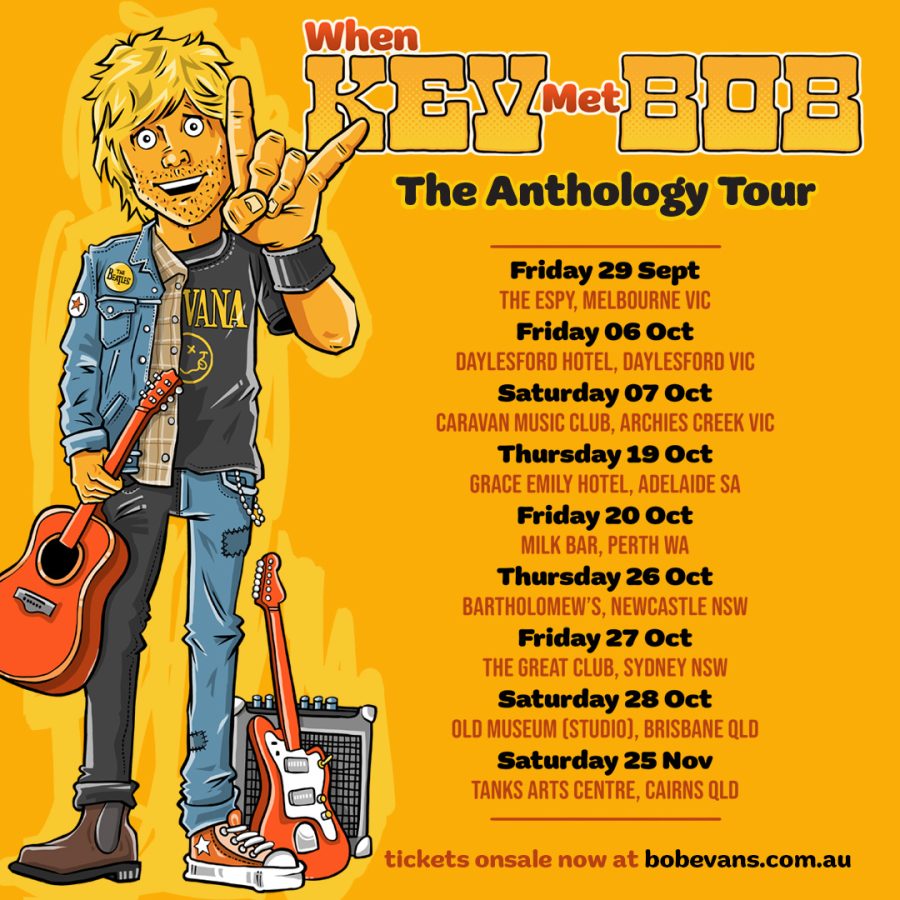 Individually, they're two of the most beloved musicians to have ever graced the Australian music scene, but together… well, there's a first time for everything! Now, Jebediah frontman Kevin Mitchell will be making Aussie music history today announcing a national anthology concert tour, When Kev Met Bob, which sees him teaming up with his own Bob Evans alter ego.
A veritable time machine of classic compositions and crowd favourites, When Kev Met Bob will see Kev and his sharper-dressed mate, Bob Evans, combining their myriad talents for an evening of music which encompasses almost 30 years. Beginning in Kev (and Bob's!) adopted home of Melbourne on Friday September 29, the nine-date When Kev Met Bob tour will travel all over the country, with shows in Daylesford, Archie's Creek, Adelaide, Perth, Newcastle, Sydney, Brisbane, and finally Cairns, peppering the calendar until late November. Tickets are on sale now.
While Kev plucks from the storied Jebediah discography of the '90s until the present day, Bob will keep things a little more contemporary, offering up songs from his six-album catalogue from the last 20 years. Throughout it all though, a shared thread will keep it together, as never-before-told stories behind the songs turn the affair into an evening to remember. As Kev explains, the upcoming tour is a true first for him, with his near-30 years spent as the frontman of Jebediah having been kept separate from his work as Bob Evans, ever since the latter first appeared on the scene in the late '90s.
"It's a little scary! I haven't really done a proper 'tour' in years, as my last album, Tomorrowland, came out during all the COVID lockdowns, so touring has been extremely sporadic ever since.  This is a show I have always had in the back of my mind though. I have always just kind of been sitting on it and waiting until it felt right to do so. For nearly 30 years I have kept my solo music and my Jebediah music separate, and that has been a very deliberate decision that was also an important one to me. I think I have reached the point now however where that separation has done its job. So I suppose it feels a little freeing and exciting to step into a new phase now; The Kevin Evans years!"
By now, Kev's musical journey is pretty well-documented. First forming Jebediah as a teenager, it wasn't long until his songs were radio staples, his albums were chart mainstays, and festival stages seemed empty without him. By the time Jebediah released second album, Of Someday Shambles in 1999, Kev was looking to spread his wings a little bit and explore a different musical direction. Thus, Bob Evans was born.
Removing the endearing alt-rock fuzz that characterised Jebediah, the Bob Evans sound was more acoustic, and folk-oriented, with debut album Suburban Kid arriving in 2003. Even while his main band took some time off from recording new albums, Bob kept the home fires burning, with his sixth album, Tomorrowland, arriving just two years ago. Now, the time has come for the lines to blur, and for the upcoming When Kev Met Bob tour set to become the musical photo album of Kev's entire life.
"For me, personally, I think it will just be nice to finally present all this music I have written on one stage. There's a lot there when you combine it all together, and it's very much my adult life laid bare in song. The earliest songs I'll be playing were written when I was 17, and the most recent are from my early 40s," says Kev.
For diehard fans of both acts, the upcoming shows will be a celebration of what makes these two artists so special and revered by music fans across the country. Over the course of two sets, Kev will focus on a lifetime of musical brilliance: Beginning with a set full of classic material from the '90s and '00s, the chronological celebration will move onwards to the Bob Evans years, showcasing everything that came after. Of course, those looking for a unique experience need look no further, with a bunch of Jebediah rarities that are often absent from the band's live shows also set to get a look-in. "I think the people who appreciate a few deep cuts will hopefully be happy," notes Kev.
With decades of musical experience in Kev's corner (and almost just as much in Bob's), the upcoming When Kev Met Bob tour is bound to be a masterful celebration of one of the country's finest songwriters and performers in a truly unique format. For Kev though, it's another opportunity to do what he's consistently loved doing for almost 30 years.
"I really think it's quite simple, there's no trick to it. I still love it and haven't quit. I suppose that begs the question why. My motivations in the very beginning were always just based around satisfying my own happiness and not really about achieving any sort of tangible markers of success.  So my love for it has never been reliant on anything else so it's never gone away," says Kev.
Tickets to When Kev Met Bob are on sale now.
WHEN KEV MET BOB – THE ANTHOLOGY CONCERT TOUR:
Presented by Select Music and Catherine Haridy Management
FRI 29 SEPTEMBER | THE ESPY, MELBOURNE VIC | 18+
Tickets | 1300 762 545 | All Oztix Outlets
 FRI 6 OCTOBER | DAYLESFORD HOTEL, DAYLESFORD VIC | 18+
Tickets | 1300 762 545 | All Oztix Outlets
SAT 7 OCTOBER | CARAVAN MUSIC CLUB, ARCHIES CREEK VIC | 18+
Tickets | 1300 762 545 | All Oztix Outlets
THU 19 OCTOBER | GRACE EMILY HOTEL, ADELAIDE SA | 18+
Tickets | 1300 762 545 | All Oztix Outlets
FRI OCTOBER OCT | MILK BAR, PERTH WA | 18+
Tickets | 1300 762 545 | All Oztix Outlets
THU 26 OCTOBER | BARTHOLOMEW'S, NEWCASTLE NSW | 18+
Tickets | 1300 762 545 | All Oztix Outlets
FRI 27 OCTOBER | THE GREAT CLUB, SYDNEY NSW | 18+
Tickets | 1300 762 545 | All Oztix Outlets
SAT 28 OCTOBER | OLD MUSEUM (STUDIO), BRISBANE QLD | 18+
Tickets | 1300 463 332 | All Ticketsearch Outlets
SAT 25 NOVEMBER | TANKS ART CENTRE, CAIRNS QLD | 18+
Tickets on sale Aug 25 from www.oztix.com.au | 1300 762 545 | All Oztix Outlets