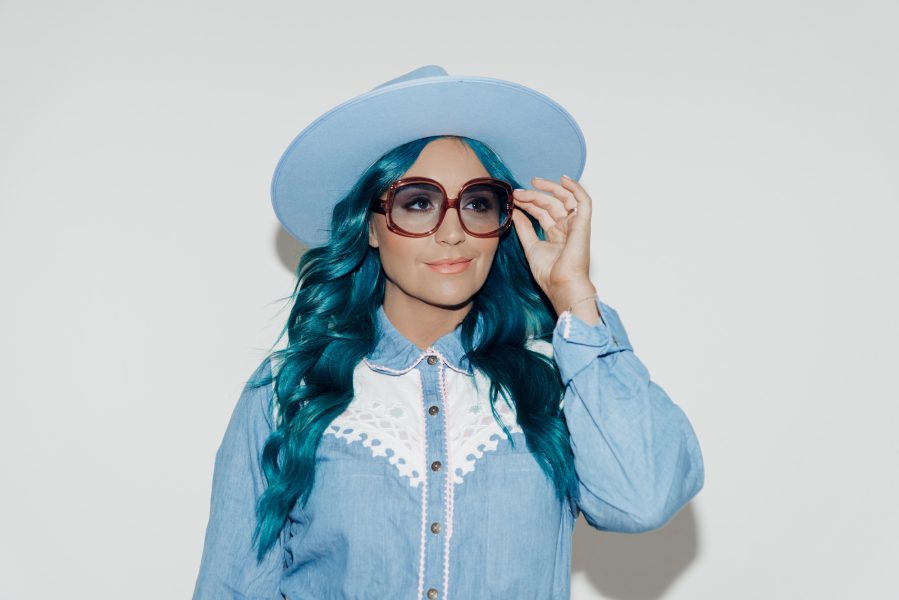 After years spent as part of one of Australia's most popular musical exports, Amy Sheppard has gone solo, with new single Blue Guitar offering a second taste of her forthcoming debut EP, Nothing But Wild – set for release on September 16 and available to pre-order on vinyl and CD from https://www.amysheppardofficial.com/. Following on from the arrival of the title track in April, Blue Guitar is an immersive piece of vibrant country pop from the iconic Queensland artist.
Inspired to share a modern twist on the classic '90s ballads from iconic names like LeAnn Rimes, Faith Hill, and Shania Twain, Blue Guitar is as fierce as it is sparkling, bolstered by impassioned lyricism, a mesmerically powerful performance style, and dreamy instrumentation that transports the listener to the glory days of country music. Working with producers Lindsay Rimes (Kylie Minogue, Luke Bryan, Troye Sivan) and Stuart Stuart (Sheppard, Dean Lewis, The Veronicas), it emerged as the first country song that Amy wrote, who took it to brother George Sheppard for some further musical insights. Before long, it took on a new life as her favourite song from her upcoming EP. As Amy explains, "I really leaned into the beauty of country music storytelling. Country music gives permission for songwriters to weave creative stories and this is where Blue Guitar was born. The storyline follows a woman who returns to visit her small hometown. When she enters a local bar, she is taken aback by a familiar voice. The man singing on the stage is her former lover who never quite made the big time. She notices he is still playing his blue guitar- the same one he used to write love songs to her on. She is filled with the same old feelings she had for him and begins to wonder if the songs he is singing today are still about her."
The accompanying video for Blue Guitar sees Amy Sheppard working with Natalie Sim and Alex Flamsteed from Method to my Madness, having previously teamed up with them for the clip to debut single, Nothing But Wild. With a resumé that also boasts clips for the likes of Jaguar Jonze and Sahara Beck, Amy notes that she felt like she was in safe hands as she stripped things back for the ethereal video. "I wanted to go back to basics and capture this video as a vocal performance with the usual other elements stripped back. We filmed it in the iconic Princess Theatre in Brisbane. I was also inspired by the mood and lighting of videos by James Bay and LeAnn Rimes."
Having launched her musical career as a member of Sheppard which she founded with her brother George in 2009, Amy Sheppard has enjoyed global chart success on numerous occasions. This year however sees her going solo for the first time, with Nothing But Wild set to arrive on September 16 as her debut EP. Working with a number of impressive songwriters for the EP – including Trannie Anderson (Reba McEntire, Gabby Barrett), George Sheppard, Jason Bovino (Sheppard), The Wolfe Brothers, and Phil Barton (The Buckleys, The McClymonts), to name a few – it's a powerful release, and one that means a lot to Amy as a person and an artist. As she explains, the EP focuses on, "the spontaneity of love – whether it's rosy, messy or somewhere in between. Love by its very nature can send you off in many directions. This EP aims to capture that from different points of view."
With the imminent release of Nothing But Wild, Amy Sheppard will also be complementing its release with a number of live performances during August, September, and October, including a hometown launch show at Lefty's Old Time Music Hall on release day – with GA tickets on sale for this show at 12pm AEST on Wednesday August 10. While any live show is an exciting experience for Amy, she notes that the solo nature of these shows will serve as something even more special for dedicated fans. As she explains, "I hope they'll have a great time! It's a combination of the EP tracks, some inspired covers and also some of the songs I recently wrote in Nashville. Should be a great show and I can't wait to perform as a solo artist!"
Blue Guitar is out today, August 5, while new EP Nothing But Wild will be released September 16 and is available to pre-order on vinyl and CD from https://www.amysheppardofficial.com/ and digital https://amysheppard.lnk.to/NothingButWild-EP
AMY SHEPPARD – BLUE GUITAR – Official single artwork
AMY SHEPPARD BLUE GUITAR LAUNCH SHOWS
FRI 12 AUG | EKKA, BRISBANE QLD | ALL AGES
Tickets available from www.ekka.com.au
SAT 10 SEPT | COUNTRY MUSIC RACEDAY, DOOMBEN RACECOURSE, BRISBANE QLD | 18+
Tickets available from www.brc.com.au
FRI 16 SEPT | NOTHING BUT WILD EP LAUNCH, LEFTY'S OLD TIME MUSIC HALL, BRISBANE QLD | 18+
Tickets available from www.amysheppardofficial.com
THUR 23 SEPT | CMC ROCKS QLD 2022, IPSWICH QLD | ALL AGES
SOLD OUT
SAT 1 OCT | SAVANNAH IN THE ROUND, MAREEBA QLD | ALL AGES
Tickets available from www.savannahintheround.com.au
Sydney rockers Marvell have today announced their most powerful single to date – Needle, a true journey of a song that describes the hardships, trauma and impossible hope that accompanies a cancer battle, released today. Accompanying the track is an equally affecting video, made in collaboration with Brae Fisher (Dear Seattle). Needle precedes Marvell's new EP, Comfort Is King which is set for release on December 9 – fans can pre-save the record now and Sydneysiders can check out the band's dynamic live show when they play Avalon RSL on December 4.
Needle is one of those songs that sticks with you long after the first listen. Bold, raw, defiant and brave, the track begins with a soft acoustic guitar and vocalist Max Marvell's sole voice before interchanging vocals with his brother Tom in the second verse – symbolic in that cancer can be a lonely road, but a second voice joins in to support – then builds into a massive, full band climax, mimicking the often startling, always affecting journey that follows a cancer diagnosis. For Marvell, the song is deeply personal, as Max explains, "We wrote Needle when our then-drummer BJ was battling testicular cancer. We wanted to write about how we felt, imagining ourselves in his shoes and really trying to understand what he was going through, rather than just telling his story. The track starts as something contemplative, going through the fear and the uncertainty then quickly evolving into a more powerful song, daring at the possibility of hope. We wanted to blend the visceral, contradictory feelings of such a devastating situation with the sterile, procedural reality that we saw BJ going through. All in all, this track aims to capture that feeling of staring down the barrel of something terrible, when all the odds are against you, and saying fuck it – I'm going to give all I've got to make it through."
The video for Needle is a deeply rare experience – all the emotion of the song is beautifully, respectfully reflected in visual form through the story of a man trying to escape a bad situation. Speaking on the conception of the clip, Max explains, "The video tells a symbolic story that relates to the lyrics and BJ's battle with cancer, but also depicts the themes of struggle in a more general way. We bounced around ideas and initially wanted to paint a very raw picture of cancer specifically, but decided that representing the themes in a more abstract way would allow the audience to dig a little deeper to find their own meaning. We wanted people to empathise, rather than just be told a story. We let Brae Fisher take the story and put his own spin on it, writing and directing a film that depicts a nameless man escaping from unknown captors. We wanted to capture the desperation and panic of the escape as the man runs away from something that is unknown to the audience."
Evocative of Australian rock legends Powderfinger, Paul Kelly, and modern influences such as Catfish and the Bottlemen and local heavy act Ceres, the EP, Comfort Is King, is demonstrative of a band in their element. Secure in their sound, confident in their songwriting skill, the EP shines from start to finish – from the contemplative, emotional Needle, to the upbeat Ratalatat, to the sweet organ sounds of Honey and the stunning, gentle closer All Of It, this is true brilliance in the form of rock/pop songwriting. Crunchy guitars pair perfectly with acoustics, pounding drums marry with the Marvell brothers' harmonies – Comfort Is King has it all, as Max says, "Ultimately, we wanted to make a fun, energetic record, despite some of the other stuff that life had thrown at us and our mates, so that we could address all the painful parts that led up to this record while not letting it take us over completely. We wanted to try and find the fun and the life amongst it all to keep us going and that's what this record is about; acknowledging the shitty times but also remembering why we play and make music – because it's a blast and brings us all together despite anything else."
Needle is out today. Comfort Is King is out December 9 and available to presave here.
Marvell is Max Marvell (Vocals/Guitar), Tom Marvell (Vocals), Jesse Gaupset (Lead Guitar), Dylan Mitchell Frost (Bass), Theo Henry (Drums).
The quiet achiever of Australian music, Pete Murray has today released his anticipated new EP, The Night, and this week announced he'll be joining the Bluesfest 2021 lineup alongside Tash Sultana, The Teskey Brothers, Ocean Alley and more. After impressing with Found My Place, his driving song about offering wisdom to your kids, and backing it up with the tenderness and beauty of the introspective If We Never Dance Again, Pete is ready to share his masterful six track EP.
"It's always exciting releasing new music, especially when you are super happy with the way the record sounds. I have really enjoyed the writing and the recording process of this record," Pete says.
Taking sonic inspiration from artists such as JJ Cale and Frank Ocean, The Night is uplifting, affecting and loved up, showcasing this exceptionally gifted and seasoned songsmith at his very best. The Night sees Pete trialing new techniques seven albums deep in his career, revelling in co-writing abroad.
Pete explains, "I had only done co-writing once before, so this was still a new experience for me and one that I was quite nervous about. I went to LA, Nashville and England and I knew I would be writing with experienced writers, so I didn't want to let anyone down. It all turned out to be an amazing experience and I was really happy with the songs that were written over there."
Recorded in Pete's own Kicks Iron Studio in Byron Bay with his good mate Garrett Kato (Kyle Lionhart, Ziggy Alberts, Pierce Brothers), The Night exudes contentment and warmth and is a hugely personal offering from the notoriously private family man. Inspired by his family and home life, Pete explains, "When I'm in writing mode, I tend to write about real life situations that people can relate to and also take motivation from."
Additional to his newly announced Bluesfest performance, Pete will be playing the new tracks, as well as crowd favourites at the upcoming By The C Festival dates, Sunset Piazza and Crowd Surf through March. For more dates and details on where you can hear him live, visit: https://petemurray.com/#shows
The Night EP is out now via Sony Music Entertainment Australia
THE NIGHT EP TRACKLISTING
1. Found My Place
2. If We Never Dance Again
3. Because Of You
4. We'll Be The Fire
5. The Fall Apart
6. Waiting For This Love
PETE MURRAY SHOW DATES
SAT 6 MAR | BY THE C | CRONULLA
SUN 7 MAR | SUNSET PIAZZA, SYD
SUN 14 MAR | BY THE C | ST KILDA, MELB
SAT 20 MAR | CROWD SURF | SANDSTONE POINT
SAT 27 MAR | BY THE C | CITY BEACH, PER
MON 5 APR | BLUESFEST, BYRON BAY