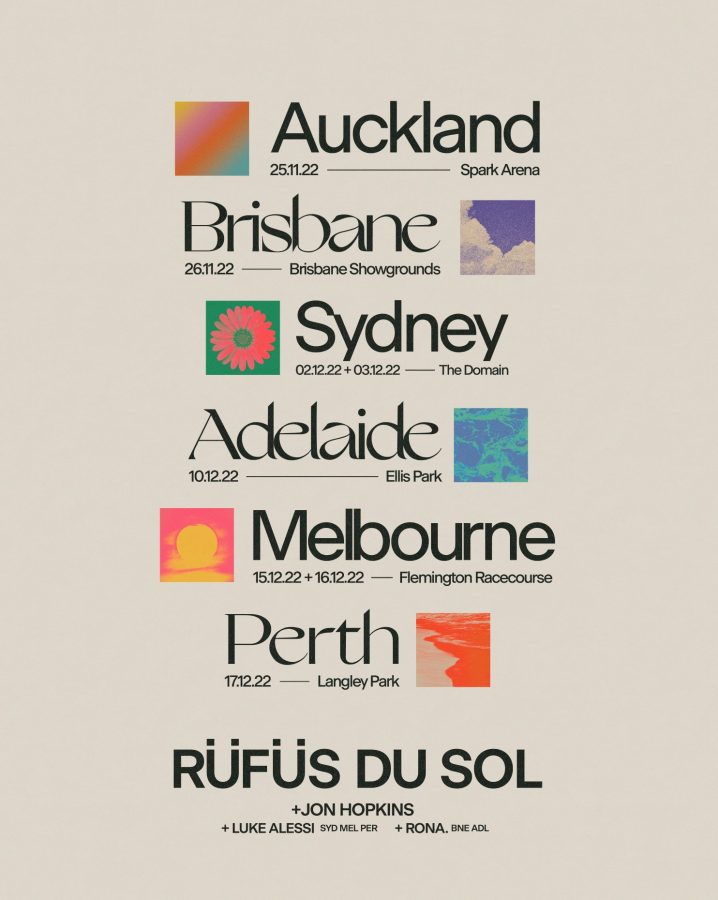 Armed with a Grammy, seven ARIA nominations, and over 500,000 tickets sold across their North America, UK and Europe Surrender tour, there is no doubt the world has been experiencing the rise and rise of RÜFÜS DU SOL this year.  And Australia is up next, with the band's Surrender tour set to touch down in Aus later this month, kicking off at Brisbane Showgrounds on November 26, before taking in Sydney's The Domain on December 2 and 3, Adelaide's Ellis Park on December 10 and Melbourne's Flemington Racecourse on December 15 and 16, before finishing up at Perth's Langley Park on December 17.
Shaping up to be one of the biggest headline tours of the year, the Aussie Surrender tour will see the band take over festival-sized green sites to present their brand new live show and ARIA #1 album, Surrender, offering the only opportunity for fans to witness the phenomenon that is RÜFÜS DU SOL live in Australia in 2022.
"It's been three years since we've played in Australia, so it feels perfect for these to be the last shows of our world tour this year. We're really excited to be coming home and performing this new show to our Australian fans, friends and family at the biggest outdoor venues we've ever headlined." Tyrone Lindqvist
And this tour on home turf will be the perfect way to cap off what has been a truly memorable and mammoth year, having scooped a coveted Grammy for Best Dance Recording, leading the ARIA nominations charge with seven noms for Best Video, Best Pop Release, Album Of The Year, Song Of The Year, Best Dance/Electronic Release, Producer/Best Produced Album and Best Group, and playing sold out shows at some of the most iconic venues around the world, including The Gorge Amphitheatre (Washington), Hollywood Bowl (LA) and multiple shows at Red Rocks (Colorado) and Forest Hills Stadium (NYC).
RÜFÜS DU SOL have also today announced their partnership with AIME (Australian Indigenous Mentoring Experience) across the Australian tour through their VIKP 'Very Important Kind Person' campaign, giving away 5 double passes to some Very Important Kind People. To find out more and to submit your kindness pledge to go in the running to win, visit https://aimementoring.com/rufusdusol
Additionally, fans attending the shows will also have the opportunity to buy a limited edition T-Shirt with all profits going directly towards AIME.
Equipped with a well-refined, immersive live experience, Australia is in for a guaranteed treat when RÜFÜS DU SOL are finally able to bring their Surrender tour down under in 2022, offering fans a unique opportunity to accompany the band into their world. RÜFÜS DU SOL will be supported nationally by England's Grammy and Mercury Prize nominated, classicly trained electronic artist, Jon Hopkins, and the band's Rose Avenue label artists Luke Alessi as additional support in Sydney, Melbourne and Perth, and RONA. in Brisbane and Adelaide.
Tickets are on sale now via Moshtix.
Surrender is out now on  Rose Avenue and Reprise / Warner Records STREAM / PURCHASE SURRENDER
NATIONAL SURRENDER TOUR
Presented by triple j
SAT 26 NOV | BRISBANE SHOWGROUNDS, BRISBANE, QLD | 18+
FRI 2 DEC | THE DOMAIN, SYDNEY, NSW | 18+
SAT 3 DEC | THE DOMAIN, SYDNEY, NSW | 18+
SAT 10 DEC | ELLIS PARK / TAMPAWARDLI, ADELAIDE, SA | 18+
THU 15 DEC | FLEMINGTON RACECOURSE, MELBOURNE, VIC | 18+
FRI 16 DEC | FLEMINGTON RACECOURSE, MELBOURNE, VIC | 18+
SAT 17 DEC | LANGLEY PARK, PERTH, WA | 18+
After announcing her epic 42-date 'See U Somewhere Australia Tour' on Tuesday, Amy Shark has today shared the news that almost half of the tour has sold out within the first 24 hours of going on sale, marking a triumphant return for live music. Sold out shows include Margaret River, Albany, Esperance, Kalgoorlie, Merredin, Geraldton, Karratha, Bathurst, Wyong, Wagga Wagga, Griffith, Wangaratta, Traralgon, Warrnambool, Horsham, Mildura, Whyalla Norrie, Mt Gambia and Devonport, and all remaining shows are selling fast. Second shows have been added for Margaret River, Wagga Wagga and Traralgon.
Tickets to all shows are on sale from https://www.amyshark.com
Presented by triple j, Handsome Tours, Select Music and Rage More, Amy Shark will be hitting the road performing in some of the most regional pockets of Australia throughout May, June, July and August this year.
Humbled by her fans response and thirst for tickets, Amy says, "Wow, I cannot believe you've already sold out 19 shows! Thanks for welcoming me into your towns with this insane response! I can't wait to come and play for you all."
After bursting on to the global music scene in 2016, Amy Shark's 6 x Platinum single Adore put her on the map as one of Australia's most formidable emerging songwriters. This was followed by APRA award winning (Song Of The Year) 6 x Platinum and number one Australian airplay chart hit, I Said Hi and the 2019 3 x platinum single Mess Her Up. Shark's debut/breakthrough #1 ARIA album and Platinum-certified LOVE MONSTER was recognised in 2018 with four ARIA awards (Album of the Year, Best Female Artist, Best Pop Release, Best Producer [Dann Hume]) and was nominated for another five. LOVE MONSTER went on to become the highest selling album by an Australian artist for 2018. Not one to slow down, even in a global pandemic, 2020 saw Amy release her ARIA award winning, 2 x Platinum accredited single, Everybody Rise, which is nearing 37 million streams globally and spent 12 weeks in the top 10 Australian airplay chart. Amy's latest album, CRY FOREVER was her second #1 ARIA debut holding the top spot for two weeks consecutively. Shark teamed up with blink 182's Travis Barker on Gold accredited single C'MON and global superstar Ed Sheeran to co-write platinum single Love Song's Ain't For Us featuring Grammy award winning artist Keith Urban. Today Amy has amassed 798 Million combined global streams.
Tickets to all shows are on sale from https://www.amyshark.com.
AMY SHARK 'SEE U SOMEWHERE AUSTRALIA TOUR 2022'
Presented by triple j
THU 19 MAY | BUNBURY REGIONAL ENTERTAINMENT CENTRE, BUNBURY, WA
FRI 20 MAY | MANDURAH PERFORMING ARTS CENTRE, MANDURAH, WA
SAT 21 MAY | THE RIVER, MARGARET RIVER, WA
SUN 22 MAY | THE RIVER, MARGARET RIVER, WA *2ND SHOW ADDED*
THU 26 MAY | ALBANY ENTERTAINMENT CENTRE, ALBANY, WA
FRI 27 MAY | ESPERANCE CIVIC CENTRE, ESPERANCE, WA
SAT 28 MAY | GOLDFIELDS ART CENTRE, KALGOORLIE, WA
SUN 29 MAY | CUMMINS THEATRE, MERREDIN, WA
TUE 31 MAY | QUEENS PARK THEATRE, GERALDTON, WA
THU 2 JUN | RED EARTH ARTS PRECINCT (THEATRE), KARRATHA, WA
SAT 4 JUN | THE ROEBUCK BAY HOTEL, BROOME, WA
THU 9 JUN | DARWIN ENTERTAINMENT CENTRE, DARWIN, NT
SUN 26 JUN | THE GARDEN HOTEL, DUBBO, NSW
TUE 28 JUN | BMEC, BATHURST, NSW
WED 29 JUN | THE ART HOUSE WYONG, WYONG, NSW
SAT 2 JUL | CIVIC THEATRE, NEWCASTLE, NSW
MON 4 JUL | WAGGA WAGGA CIVIC THEATRE, WAGGA WAGGA, NSW *2ND SHOW ADDED*
TUE 5 JUL | WAGGA WAGGA CIVIC THEATRE, WAGGA WAGGA, NSW
WED 6 JUL | GRIFFITH REGIONAL THEATRE, GRIFFITH, NSW
FRI 8 JUL | CANBERRA THEATRE CENTRE, CANBERRA, ACT
SAT 9 JUL | ALBURY ENTERTAINMENT CENTRE, ALBURY, NSW
TUE 12 JUL | WPACC, WANGARATTA, VIC
THU 14 JUL | RIVERLINKS EASTBANK, SHEPPARTON, VIC
SAT 16 JUL | GIPPSLAND PERFORMING ARTS CENTRE, TRARALGON, VIC
SUN 17 JUL | GIPPSLAND PERFORMING ARTS CENTRE, TRARALGON, VIC *2ND SHOW ADDED*
TUE 19 JUL | LIGHTHOUSE THEATRE, WARRNAMBOOL, VIC
WED 20 JUL | ULUMBARRA THEATRE, BENDIGO, VIC
THU 21 JUL | WENDOUREE CENTRE FOR PERFORMING ARTS, BALLARAT/WENDOUREE, VIC
FRI 22 JUL | HORSHAM TOWN HALL, HORSHAM, VIC
SAT 23 JUL | COSTA HALL, GEELONG, VIC
WED 27 JUL | MILDURA ARTS CENTRE, MILDURA, VIC
THU 28 JUL | THE BAROSSA ARTS CENTRE, TANUNDA, SA
FRI 29 JUL | MIDDLEBACK ARTS CENTRE, WHYALLA NORRIE, SA
SAT 30 JUL | CHAFFEY THEATRE, RENMARK, SA
SUN 31 JUL | SIR ROBERT HELPMANN THEATRE, MT GAMBIER, SA
TUE 2 AUG | PRINCESS THEATRE, LAUNCESTON, TAS
THU 4 AUG | PARNAPLE ARTS CENTRE, DEVENPORT, TAS
FRI 5 AUG | HOBART CITY HALL / MAC 02, HOBART, TAS
FRI 19 AUG | BILOELA CIVIC CENTRE, BILOELA, QLD
SAT 20 AUG | MONCRIEFF ENTERTAINMENT CENTRE, BUNDABERG, QLD
SUN 21 AUG | GLADSTONE ENTERTAINMENT & CONVENTION CENTRE, GLADSTONE, QLD
WED 24 AUG | PILBEAM THEATRE, ROCKHAMPTON, QLD
THU 25 AUG | MECC, MACKAY, QLD
FRI 26 AUG | TOWNSVILLE ENTERTAINMENT CENTRE, TOWNSVILLE, QLD
MON 29 AUG | TANKS ARTS CENTRE, CAIRNS, QLD
ABOUT HANDSOME TOURS:
Handsome Tours is a boutique promoter with 20+ years experience in touring some of the world's finest artists across Australia & New Zealand; working with acts including Gang Of Youths, Phoebe Bridgers, The Kid LAROI, The xx, Stormzy, The War On Drugs, Bon Iver, Middle Kids, Skegss and Fontaines D.C.
Indie Aus rockers Maison Hall have today shared their new rambler Montreux, a love letter to the connection between the left and the right sides of the brain. The duo, made up of Ben Byron and Joe Kneipp, have also announced a colourful, eccentric video to accompany the track. This is Maison Hall's first release since their 2017 debut album It Was Never About Me, and will be celebrated with an east coast tour playing Black Bear Lodge Brisbane on February 3, The Retreat Hotel Melbourne on February 11 and Gang Gang Café Canberra on February 13.
Contemplative and upbeat, Montreux is classic indie rock evocative of The Kooks and Catfish and the Bottlemen, with sparks of innovation unique to Maison Hall throughout. Guitars thrash amongst steady, driving drums; lead vocalist Joe Kneipp's voice feels right at home amongst the chaos, commanding attention with thoughtful lyrics and strong melodic hooks. Speaking on the inspiration behind the anticipated return single for the duo, Joe reflects, "Montreux is celebratory. Not just because we're still doing this, but because we're still doing this despite our 'real-life' obligations, the distance between us, the total absence of pecuniary success, etc. We are so divorced from any external validations – the simple fact is, I love making music, and I love making music with Ben. And we're gonna keep fucking doing it!"
The video clip for Montreux is as considered as it is amusing – a never-ending, ever-cycling job interview is consistently interrupted by a vigorous visual artist, determined to be acknowledged by the two men in their meeting. It's a clever commentary on the push and pull of a working artist's time and headspace, caught between creation and survival in capitalist society, as Joe sums up the video, "The concept of the clip is pretty on the nose – the juxtaposition between the left and right brain, the creative and the pragmatist, the poetic and the prosaic. If you're a musician, or any creative for that matter, who's not lucky enough to make all their money from creative endeavours, you'll understand these tensions. I workshopped it with Ben and then James Cooney, who stars in the clip as the 'right-brain' and is part of our live lineup."
After almost six years since their last live show together – during which time the two members of the group have been exploring other musical projects – Maison Hall are thrilled to return to the stage to celebrate the launch of Montreux in Brisbane and Melbourne and Canberra. Despite both moving through several different cities since the guys met and formed Maison Hall back in college in Brisbane, the band are stronger and sharper in their songwriting than ever before, as demonstrated in the tight brilliance of Montreux.
Maison Hall is Ben Byron (Drums, Backing Vocals) and Joe Kneipp (Vocals, Guitar, Bass, Keyboard)
Montreux is out today.
THUR 3 FEB | BLACK BEAR LODGE, BRISBANE QLD | 18+
Tickets available from https://www.eventbrite.com.au/e/maison-hall-montreux-single-launch-tickets-219745323177 | All Eventbrite Outlets
FRI 11 FEB | THE RETREAT HOTEL, MELBOURNE VIC | 18+
Tickets available from https://www.eventbrite.com.au/e/maison-hall-tickets-242537585447 | All Eventbrite Outlets
SUN 13 FEB | GANG GANG CAFE, CANBERRA ACT | 18+
Tickets available from Oztix | All Oztix Outlets