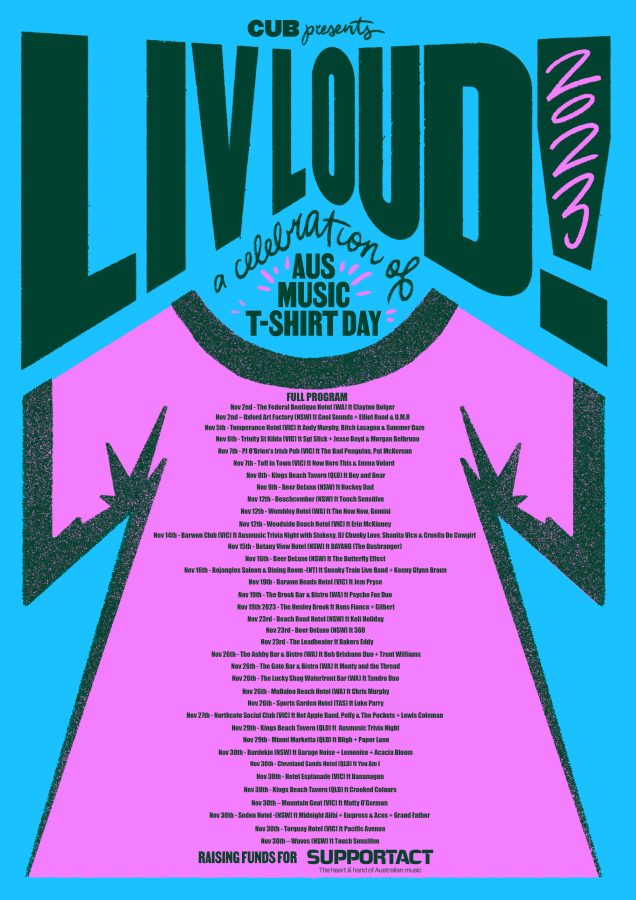 Carlton & United Breweries will support the local live music and hospitality industries to the tune of around $100,000 as part of CUB's LIV LOUD 2023 program collaboration with Ausmusic T-Shirt Day next month.
Around 40 venues across the country are participating in the program's inaugural year, with each venue to receive a cash grant to host live events on off-peak days throughout November.
Breakout artists such as Pacific Avenue and radio personality Matty O'Gorman will play alongside some of Australia's leading acts such as You Am I, Boy & Bear and Touch Sensitive.
Additionally, CUB will donate funds directly to charity Support Act in December to further assist their incredible work delivering crises relief support, mental health programs and more across the country.
CUB Artists & Events Manager Marcus Knight said CUB's LIV LOUD 2023 builds on its long-standing tradition of supporting a vibrant live music industry.
"We're delighted to be partnering with Support Act to deliver this initiative and continue our long-standing tradition of supporting Aussie pubs.
"Venues will use the grants to bring these events to life, including paying the performers, production costs and hiring some extra staff. This will help bring punters through the door on off-peak nights when they might otherwise have stayed at home and help ensure they have a great time. Bands, trivia nights and live performances are a quintessential part of the pub. LIV LOUD 2023 not only supports them, but the broader hospitality industry too."
Thrilled to be a part of LIV LOUD, Boy & Bear lead singer Dave Hosking said: "We are really looking forward to playing as part of the inaugural LIV LOUD lineup alongside so many other great acts supporting Ausmusic month, AusmusicT-shirt day and Support Act. And it's so good to see so many gigs and tours coming out to regional venues after such a rollercoaster few years for the music industry."
AusmusicT-Shirt Day, scheduled for November 30 this year, is coordinated by Support Act annually to raise urgently-needed funds for music workers in crisis. Aussies can show their support by buying an Aussie music t-shirt throughout November, making a donation to Support Act or setting up a team to fundraise.
Support Act's CEO Clive Miller said: "We welcome this wonderful initiative from CUB to promote and celebrate live music during Ausmusic Month and encourage fundraising for the Ausmusic T-Shirt Day campaign. LIV LOUD 2023 creates opportunities for live performers and hospitality staff while giving people a terrific night out and supporting a good cause. It really is a win-win all round."
Marcus Knight added: "CUB are proud to partner with Ausmusic T-Shirt Day and Support Act in 2023 uniting with Australian artists and the hospitality sector who consistently service the Australian community. We acknowledge and support the critical service of Support Act in the delivery of crisis relief to musicians, managers, crew and music workers."
For all tickets and further information about LIV LOUD 2023, visit CUB 'LIV LOUD'
For more information about Ausmusic T-Shirt Day visit www.ausmusictshirtday.org.au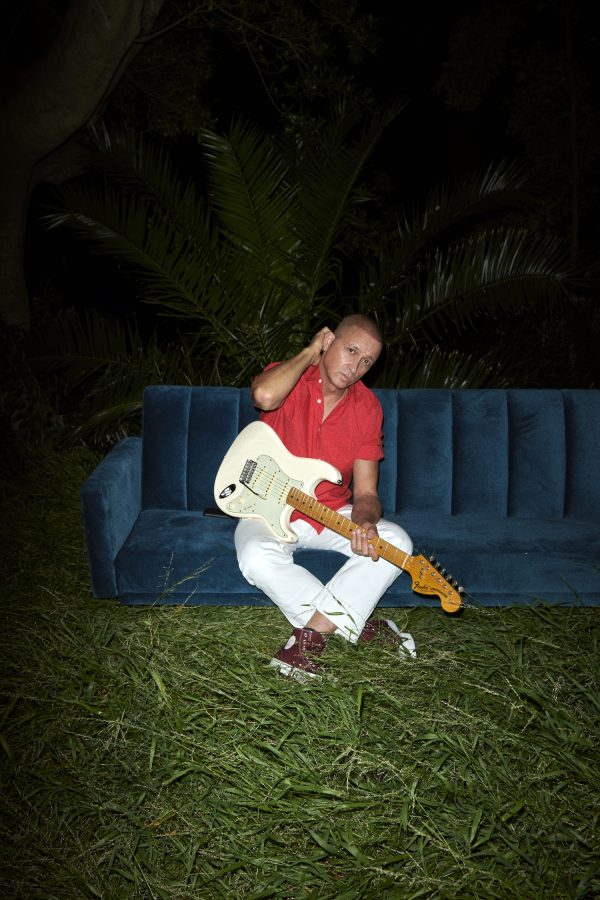 Ahead of releasing his sixteenth studio album tomorrow, Australian icon Diesel has today announced a special run of shows in 2024, with the Forever Tour set to kick off in January next year celebrating Diesel's brand new outing, the multifaceted masterpiece Bootleg Melancholy – available to preorder now.
Set to perform across Australia next January at Avoca Beach, Adelaide, Melbourne, Perth, Margaret River, Sydney and Brisbane, including an appearance at the hallowed Sydney Opera House while in New South Wales, pre-sale tickets to these unforgettable evenings will be available for Diesel and venue members from 10am on Thursday 19 October until Sunday 22 October, with general public tickets on sale from Thursday 26 October at 9am AEDT. To keep up to date with all things Diesel, including upcoming tour pre-sale opportunities, head to dieselmusic.com.au/mailinglist.
All of the myriad talents of Diesel's musical abilities coalesce on Bootleg Melancholy, an unabashedly exuberant 14-track LP that is at once the most diverse and most cohesive album Diesel has recorded to date. Loaded with hooks, these songs greet with the warmth and familiarity of a good friend, songs about family, mortality, childhood, and dreams. Travelling across time, place, and memory, this is rousing yet reflective pop music that celebrates the joys of everyday life while braving the difficult stuff – the challenges we all eventually face – with insights and tenderness.  Featuring the single Forever, the listener is going to take from Bootleg Melancholy what they best need, whether the pop rush of an infectious chorus, the reassurances of a heartening lyric sung with Diesel's trademark soulfulness, or the satisfying interjection of some exhilarating solos on vintage guitars. And for Diesel, this album finally feels like a return to some form of normality after the previous few years and releases, as he explains, "After recording and releasing two albums in a pandemic, it feels great to be releasing this new album! I'm not sure what normal is, but it feels great to be still doing this with others around me. It's always inspiring for me to see the excitement of people, especially as the recording process starts out as very insular, in this case a one-man journey. It's always a challenge to put into words what something sounds like, but I feel like there are a lot of influences going on, probably more than any record I've made but somehow it feels the most cohesive at the same time."
Spending the pandemic years revisiting artists like TLC, Elliot Smith, Leon Bridges, Khruangbin and Angel Olsen, Diesel also dove deep into guitar sounds and the first three Prince albums as he worked towards new material amidst a backdrop of extreme uncertainty. Recording, mixing and mastering his latest album entirely on his own, with drummer Lee Moloney appearing on some of the tracks and Bernie Bremond on saxophone for Never Giving Up, Bootleg Melancholy is as much an exercise in catharsis and joy as it is a snapshot of Diesel's own personal journey; a reflection on places past tread during a time when travel seemed a distant memory, as Diesel reveals, "I would describe this album as almost a travel log recall of all the places I've been or lived in, I kind of had to as we weren't going anywhere! There are also a lot of bright sounding songs with quite close to the bone lyrics, I like to have that juxtaposition."
One of Australia's greatest success stories, the American-born Diesel, aka Mark Lizotte, has spent three decades weaving an effortlessly magic musical touch into his rock and blues-fuelled sounds, both as part of the band Johnny Diesel & The Injectors and, more recently, as a solo artist. With multiple #1 ARIA charting albums under his belt, six ARIA award wins and millions of streams alongside a legion of fans, Diesel's creative skillset also expands beyond his own projects, with the talented artist also renowned for his work as a producer and multi-instrumentalist.
Now set to wow fans once again with his new album Bootleg Melancholy this week, Diesel is definitely not slowing down as 2023 draws to a close, with his extensive national tour in early 2024 marking just the beginning of another exceptional year for this creative powerhouse. "It's always exciting bringing a song into the live realm," shares Diesel of the upcoming 2024 Australian tour. "A lot of times I want to record it again after touring it! It's also like bringing new friends into the fold with old friends. And I'm most excited to feel the reaction from the audience with the new songs, it's always a 'butterflies in the stomach' kind of feeling – but I thrive on that."
Diesel's Forever Australian tour commences in January 2024, tickets on sale Thursday 26 October from 9am from dieselmusic.com.au
Bootleg Melancholy is set for release Friday 13 October via Bloodlines, and is available to preorder now.
DIESEL – FOREVER NATIONAL TOUR DATES
SAT 13 JAN 24 | AVOCA BEACH THEATRE, AVOCA BEACH NSW | AA | 8-10.15pm
Tickets available from dieselmusic.com.au
SAT 24 FEB | DUNSTAN PLAYHOUSE, FESTIVAL CENTRE, ADELAIDE SA | AA | 8-10.15pm
Tickets available from www.ticketek.com.au | 132 849 | All Ticketek Outlets
FRI 01 MAR | ATHENAEUM THEATRE, MELBOURNE VIC | AA | 8-10.15pm
Tickets available from www.ticketmaster.com.au | 1300 446 925 | All Ticketmaster Outlets
FRI 22 MAR | REGAL THEATRE SUBIACO, PERTH WA | AA | 8-10.15pm
Tickets available from www.ticketek.com.au | 132 849 | All Ticketek Outlets
SAT 23 MAR | HEART THEATRE, MARGARET RIVER WA | AA | 8-10.15pm
Tickets available from dieselmusic.com.au
FRI 12 APR | SYDNEY OPERA HOUSE, SYDNEY NSW | AA | 8-10.15pm
Tickets available from dieselmusic.com.au
SAT 13 APR | THE TIVOLI, BRISBANE QLD | AA | 8:00-10.15pm
Tickets available from www.ticketmaster.com.au | 1300 446 925 | All Ticketmaster Outlets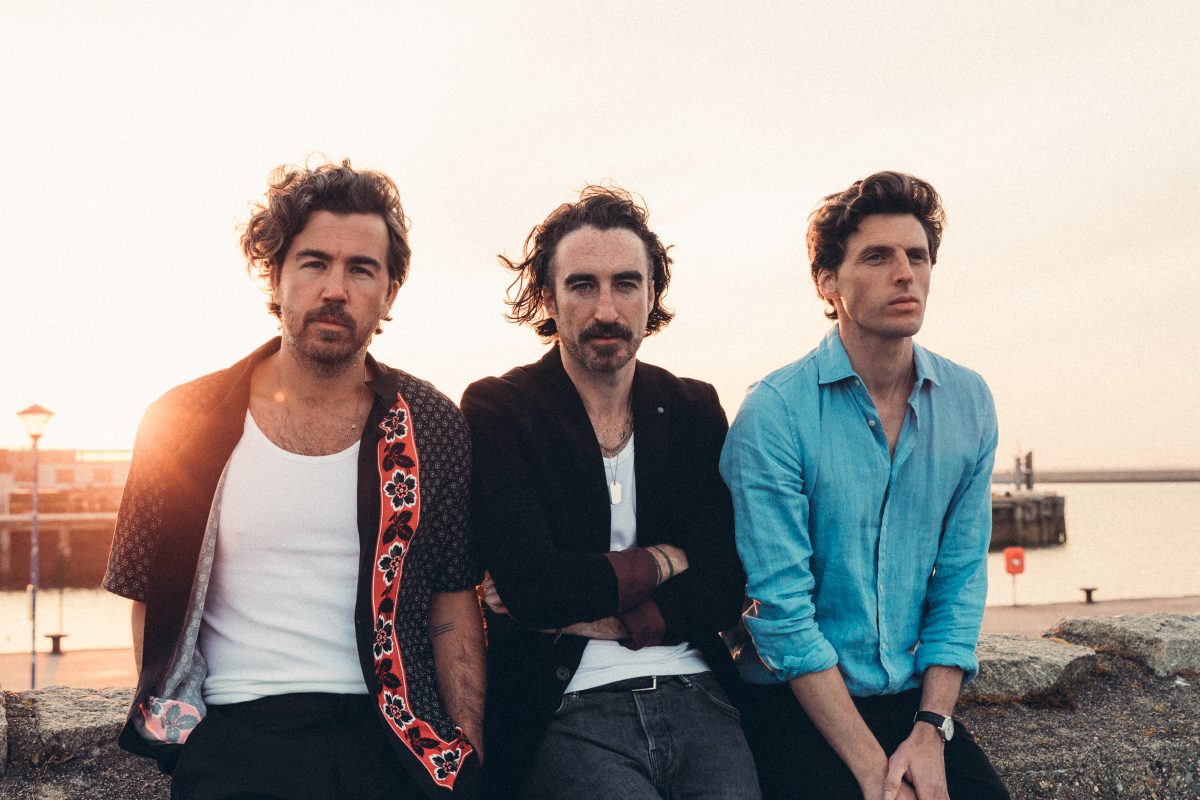 Dublin's finest, The Coronas, return today armed with a new single; a previously unheard song One Last Time, which was recorded in 2009 when the band were just getting going. With sweeping strings, acoustic guitar and the magnetic vocal stylings of Danny O'Reilly, One Last Time also heralds the upcoming release of The Best Of The Early Days; an album that celebrates the early back catalogue of The Coronas, due out November 24, alongside the band's return down under the very same month. Lined up to charm Brisbane, Sydney, Perth and Melbourne alongside special guest Roison O, both the upcoming Coronas album and tour are guaranteed to continue the trio's reputation as one of the most consistent and impressive acts on the scene.
One Last Time fittingly closes out The Coronas The Best Of The Early Days on an emotional and delectably lush note. Inspired by the likes of The National, Gang Of Youths, Radiohead, Oasis, Coldplay, The Beatles and Fleetwood Mac; One Last Time is an acoustic wonderland that simultaneously uplifts and breaks your heart. With The Coronas detailing deep emotions in this previously unreleased track, as the band elaborates; "We're delighted to be releasing this album. It's something that we've been planning for a while. It's a collection of songs from our first three albums. When we remembered One Last Time, an unreleased song from this time that we always loved, it seemed right to add it to the album as a bonus single. It's a breakup song that describes the tricky time just after a relationship ends, where you meet up and there's so much emotion and feelings still there. And spending that time together."
A multi-platinum group who can claim supporting Bruce Springsteen in Hyde Park, playing for President Biden, and making chart history as the only independent Irish band to claim three consecutive chart-topping albums, The Coronas have also previously been voted as the #1 Live Act of the Year by Hot Press. The Coronas are certainly not ones to rest on their laurels, consistently evolving their melancholic pop, singalong-worthy anthems and cinematic indie rock creations; whilst thriving against the odds even despite the unfortunately named virus that momentarily halted the world. Off the back of the pandemic years and releasing their 2022 album, Time Stopped, The Coronas embarked on their biggest world tour to date, christening their seventh full length album – selling out venues in London, New York and Vancouver, as well as a sold out performance at Sydney's Metro Theatre.
Now set to return to Australia this November to perform at some of the country's most iconic venues, also armed with some fresh magic with the impending November release of The Best Of The Early Days, there's plenty to look forward to as 2023 draws to a close – both for The Coronas and fans alike, as the band concludes; "Our last show in Sydney was pretty special. To sell out a venue the size of the Metro Theatre, with all its history, was an amazing moment for us. In the past we've tended to just be there for short visits but it's great that this time we'll have a few days off in Sydney where we can enjoy a bit of downtime! We always try to put on an energetic live show. Expect big choruses, sing-along moments and fun times!"
One Last Time is out today, Friday October 13.
The Best Of The Early Days is due out November 24.
THE CORONAS – UPCOMING TOUR DATES:
FRI 10 NOV | THE TRIFFID, BRISBANE
Tickets available from moshtix.com.au
SAT 11 NOV | THE ENMORE THEATRE, SYDNEY
Tickets available from ticketek.com.au
FRI 17 NOV | BADLANDS, PERTH
Tickets available from oztix.com.au
SAT 18 NOV | NORTHCOTE THEATRE, MELBOURNE
Tickets available from moshtix.com.au