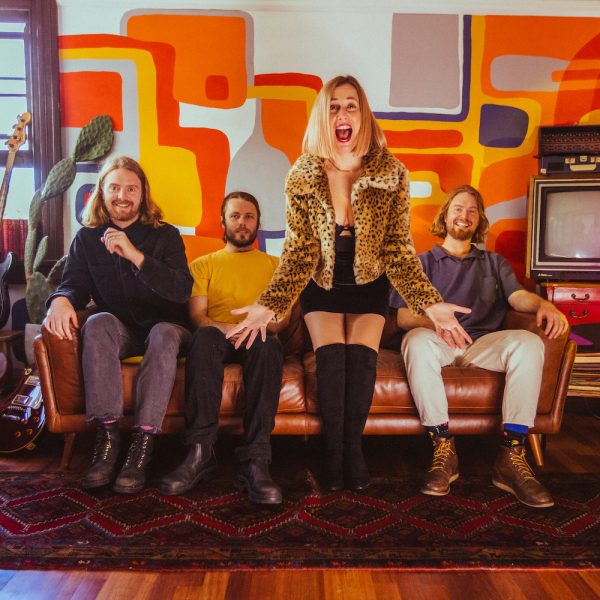 A swooning burst of grooves, good vibes and rugged sheen, the brand new track Out Of My Hands from an almighty team up between Wollongong indie poppers Pirra and Aussie music icon Tim Wheatley is more irresistible than ice cream on a summer's day. Infectious, buoyant and effortlessly charming, Out Of My Hands also gifts an insight into Pirra's upcoming new album Spirals which will officially release on Friday September 30 via BLK&WHT Records. Fans can also catch Pirra busting out their sumptuous tunes in September and October, with appearances confirmed at Jungle Love Festival in Queensland, sets at Listen Out festivals in Melbourne, Perth, Sydney and Brisbane and, on the very day of their new album release, a performance at Relish Festival Bellingen Australia alongside the likes of Winston Surfshirt, Ash Grunwald and The Black Seeds.
New single Out Of My Hands showcases Pirra in peak form, with the bubbly ballad fusing the Wollongong quartet's signature grooves and affable arrangements, with the smooth addition of singer-songwriter Tim Wheatley. Complete with jangly guitars, a bouncy bassline and contrasting vocal interplay between Pirra lead singer Jess Beck's silk and the raw yet lush stylings of Tim, Out Of My Hands also sees Pirra step slightly ajar from the electronic hues seen on the group's earlier singles, while also completing the track with Tim remotely, as vocalist Jess elaborates, "Out Of My Hands is a slower burn than our last few dancy tracks, so it's always exciting to see what the people think. It's always fun when it's a collab too, and working with Tim has been a great experience. It didn't matter that Tim was on the other side of the world in London, when we got his vocal stems sent over we just knew he was the perfect fit for this track".
Coming to life during lockdown, Out Of My Hands was produced by Pirra's own Curtis Agent and James McKendry, with the band recording everything on the track, except the drums and Tim's vocals, from home. Inspired by the laidback yet bold tendencies of artists like Matt Corby and Gorillaz, it is also the soul and pop ways of New Zealand band Leisure that collectively influenced the end result of Out Of My Hands, alongside some ambiguous relationship thematics, as James explains, "Out Of My Hands came about during the first lockdown, we'd been listening to the band Leisure quite a bit and were really digging the way they write. At the time I'd set myself a goal to write songs with just a guitar and voice to try and avoid over-producing things to cover up dodgy songwriting. It's loosely about a tense relationship, but I like keeping it vague and letting the listener fill in their own gaps".
Never ones to stay static in their sonic endeavours, Out Of My Hands is one of twelve tracks lying in wait on the group's forthcoming new album Spirals, a dazzling follow up to the group's 2017 debut LP Animal Kingdom. Opening with the ethereal synth jam Your Street, Spirals entices you into an eclectic and oscillating journey of neon dancefloor fillers (Night Time Special), summer festival anthems (Blue Giant), luscious, billowing indie gems (Out In The Air) and simmering slow burns (Bleeding). Equally immersive alongside Pirra's dexterous handling on various genres are potent sonic throwbacks set against forward-facing hues, including their track Deep Dive featuring Cumbiafrica who have just come off the back of a double gold certified global hit Morenita amassing over 70 million streams, and PNAU-adjacent vibes pulsing on the fluent feel-good bop that is Stealing From Tomorrow. But amongst the stylistic shifts and diverse flair on offer throughout Spirals, a sharp sense of cohesion and painstaking care is ultimately at the forefront; and it's this beckoning assortment of musical moments, including the long-held title track and lead single Spirals itself, that Pirra are more than ready to share with the world, as James explains, "Being eclectic has always been an interesting topic for us and the source of a few arguments. There's the idea that you should make a cohesive product, and there's also the idea that it's just about the songs. There's plenty of examples of artists doing both so I guess we just do what feels right for the time. It's been a few years since Animal Kingdom and we've been itching to do a second album for ages now. As a musician you tend to want to release songs as soon as you write them, so doing singles can feel pretty constipated but that's just how the industry works, and it feels great to be able to present what we've been working on. We've pushed to have as many new songs on the album as possible. The oldest track on the album is Spirals which was written by Jess and Curt at least five years ago. It was in the live set for a while and has had about 3 or 4 different versions done, so it will be great to let it free in the world".
Named for the Luritja Nation word for "moon' following the group forming during university, Pirra have continually turned heads with their striking and danceable indie pop. Working over the years with the likes of producer Roy Kerr, who has worked with London Grammar and AURORA, Konstantin Kersting, the producer behind the Tones & I hit Dance Monkey, Davide Rossi, who masterminded the string arrangements for Coldplay and The Verve, PNAU's Sam Littlemore, and Greg Calbi of Tame Impala and Arcade Fire fame, Pirra have become one of Australia's most exciting acts, with their breakout 2019 hit Under The Skyline also nabbing sync placement on Netflix's Terrace House. With previous high-profile festival appearances at Surry Hills, Sydney Festival, Newtown Festival and Australian Music Week, Pirra's live show is also now the stuff of legends, with the group's impending live performances set to feature, as Jess perfectly puts it: "Irresistible beats and energetic performances delivering soaring songs that will hypnotise you into letting your hair down".
A labour of love, ingenuity and ambition, Spirals is set to catapult the Wollongong quartet further into the ears and souls of old and new fans alike, and Out Of My Hands is the perfect appetiser for more Pirra goodness still to come in 2022. And while a global pandemic and ongoing hurdles may have thrown setbacks into the mix for musicians across the globe, Pirra set their sights firmly on proactivity and positivity against the odds to conjure Spirals, as Jess concludes, "Rather than get down about all of the show cancellations due to the "C" word and then the rain, it was time to get as productive as possible. In addition to the songwriting, James and Curt put a lot of time into the production and mixing and so it makes the release even more special".
Out Of My Hands is out today, Friday July 29.
Spirals is set for release on Friday September 30 via BLK&WHT Records.
PIRRA – UPCOMING SHOW DATES:

JUNGLE LOVE FESTIVAL
FRI 2 SEPT | JIMNA, QLD
Tickets available from: www.junglelovefestival.com.au
LISTEN OUT 2022
FRI 23 SEPT | CATANI GARDENS, MELBOURNE
SUN 25 SEPT | HBF ARENA, PERTH
SAT 1 OCT | CENTENNIAL PARK, SYDNEY
SUN 2 OCT | BRISBANE SHOWGROUNDS, BRISBANE
Tickets available from: www.listenout.com.au
RELISH FESTIVAL BELLINGEN AUSTRALIA
FRI 30 SEPT | BELLINGEN VALLEY, NSW
Tickets available from: www.relishbello.com.au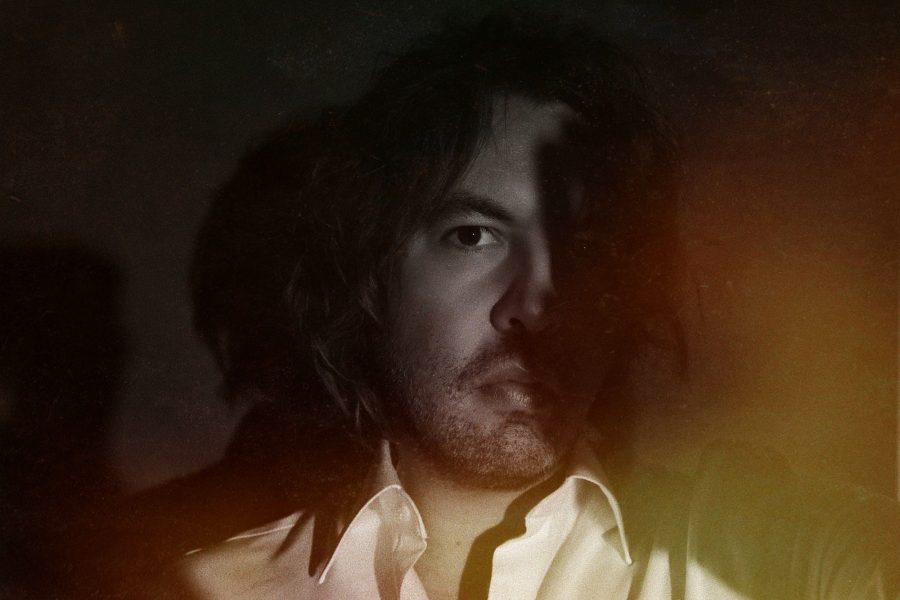 Welding an amalgamation of new and familiar sonic swoon reimagined acoustically, the brand new album Stripped out today from the acclaimed New York-based English singer-songwriter Coyle Girelli boasts two stunning cover songs alongside, aptly, multiple stripped-back versions of tracks taken from Coyle's previous full length albums Funland, released earlier in 2022, and Love Kills, unveiled back in 2018. Most recently, Funland's very own Modern Noir scored an acoustic makeover, hauntingly detailing the binary opposites of everyday life while sowing the seeds for the lush new album's ultimate release.
Upon hearing Coyle's recent stripped back take on his own sublime track Modern Noir prior to the release of Stripped, it comes as little surprise that the single was originally conceived as an acoustic song, with Coyle's vocals oozing over glittering guitars and melancholic melodics throughout the raw and intimate journey. But Modern Noir wasn't the only one of Coyle's masterpieces that was originally intended to be 'naked', with singles Funland, Here Comes My Baby and Flake from the 2022 stunner Funland, aka Coyle's most recent full-length, also originally conceived as austere and unadorned arrangements. But where the album Funland, released back in February this year, still packed an emphatic punch via heart-warming feels and exquisite instrumentation, it's on Stripped that each and every song takes on new life, granting listeners a transcendental moment of intimacy, as if Coyle himself is pouring his heart out directly in front of you throughout the album's seven songs. And for Coyle, it's been an equally enjoyable experience to bring this new album to fruition, as he shares, "I'm excited to be releasing an album in this form. I have a tendency to throw a lot into my productions so releasing something raw like this feels freeing. This is how the songs were written. Just me and an acoustic guitar. It really brings out aspects of the songs that maybe get missed when there's more layers on top of them. It's raw and honest and intimate".
Atop Coyle's new masterpiece Stripped is none other than a heart-wrenching cover of Leonard Cohen's emotive ballad Famous Blue Raincoat. Delivered in Coyle's trademark honeyed, wavering vocals and boasting intimate guitarwork, Coyle simultaneously honours the 1971 folk classic while elegantly administering his own take on the iconic melody and phrasing from Leonard's original. Bookending Stripped is the only other cover on the album, with Coyle gifting a swaying version of Fireworks by Swedish duo First Aid Kit. Sitting poignantly between these two covers on Stripped are acoustic takes on previous Coyle fare, including the single Naked Soul from Coyle's 2018 album Love Kills, as well as the aforementioned Funland tracks Modern Noir, Here Comes My Baby, Flake and the titular track Funland itself. Intending from the get-go to begin and end Stripped with a cover, the ultimate selection and slight tweaking of the two tracks to suit the album's tone came easily for Coyle, as he explains, "Famous Blue Raincoat is one of my favourite songs by one of my favourite artists Leonard Cohen. I love this song so much and loved throwing my mind and voice into it. As always with Cohen, incredible lyrics and storytelling.  And it seemed a perfect song to add to the stripped collection. First Aid Kits' Fireworks is another beauty that I enjoyed stripping down to fit the vibe of the album. It's one of my favorite melodies written in recent years. I love how it floats".
Self-produced while intertwining some of Coyle's most beloved releases as well as some of his own personal favourites, Stripped presents a unique and unforgettable chance for fans to re-immerse themselves in a new-yet-familiar setting, with Coyle's unparalleled vocals front and centre at the beating heart of this entrancing new album. Also boasting glimmering guitarwork on the album provided by Simon Kafka, engineering and mixing by Phil Joly, and mastering by John Davis at Metropolis in London, Stripped is ultimately Coyle at his most genuine; and it's this carefully curated simplicity that showcases the beloved troubadour's staggering expertise and craftsmanship. Put more simply, as Coyle himself perfectly summates, "On Stripped I literally stripped the songs back to their truest form. It's just me and two acoustic guitars".
A multi-platinum selling artist, composer, producer and multi-instrumentalist, Coyle is the living and breathing epitome of a jack of all trades, having previously written songs for the likes of Peking Duk, Macklemore, Robin Schulz, Westlife and K-Pop marvels BTS, while his sumptuous tracks also continue to be in hot demand on the airwaves, with previous singles Fun and Do You Wanna Dance? snagging radio additions in the UK and North America. Recently returning to a live performance setting touring with legendary English post-punks Psychedelic Furs in North America, Coyle has also been relishing reconnecting with fans in person and busting out some new material along the way, as he enthuses, "It was fantastic to see Psychedelic Furs and be back out on the road. And I loved seeing lots of familiar faces and fans that I've not seen in a few years enjoying the new music! Performing at the Apollo in Harlem, New York City was a real treat. So much history and magic in that space. We got given Ray Charles' old dressing room which was special. Magical musical ghosts all over the place!".
With ongoing and overwhelming critical acclaim at every step, including his earlier 2022 album Funland finding itself in contention for album of the year for Rolling Stone Australia, Coyle's reputation to make any listener weak at the knees and ears like a modern-day Roy Orbison is only set to intensify following the release of Stripped today.
Stripped is out today, Friday July 22.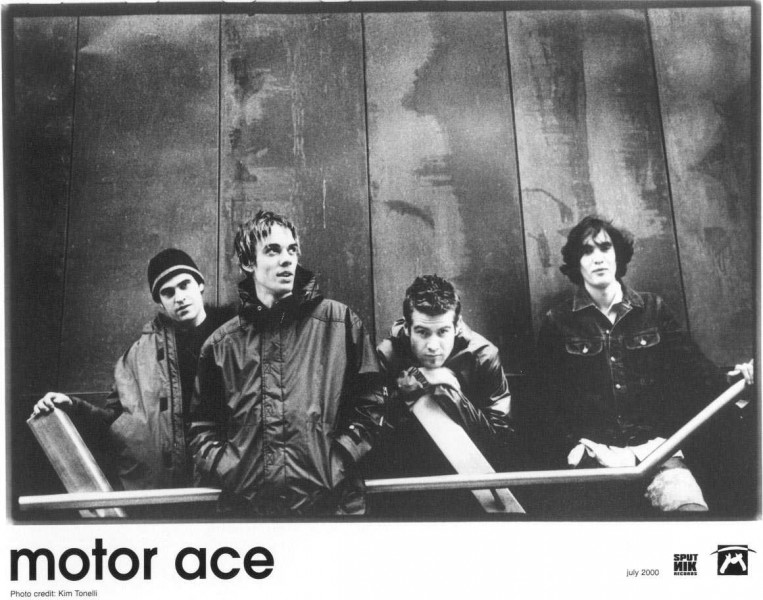 After selling out the national tour that saw their return to the stage in 2018, beloved Aussie band Motor Ace are back to celebrate twenty years of Five Star Laundry – the landmark album that catapulted them on to the global music scene, today announcing a 20th Anniversary re-issue set for release November 5, alongside a Five Star Laundry 20th Anniversary tour for 2022. The tour will kick off at Freo Social on June 10, before hitting Badlands (Perth), The Triffid (Brisbane), The Factory Theatre (Sydney), The Cambridge Hotel (Newcastle) and The Gov (Adelaide), before finishing up with a hometown show at 170 Russell in Melbourne on June 24.
Tickets go on sale at www.livenation.com.au at 1pm local time Friday October 8, with a Live Nation 48 hour presale live at 12pm local time Wednesday October 6.
The Five Star Laundry 20th Anniversary Edition will be available as a limited edition red 2LP vinyl and a 22-track expanded digital edition which includes bonus tracks from their Live At The Chapel performance in 2003. PRE-ORDER HERE.
"Five Star Laundry, when it's said and done, is Motor Ace," explains the band's frontman Patrick Robertson. "As you'd expect from a bunch of twenty year olds, perhaps it lacks a little sophistication here and there. But for me, Five Star Laundry truly captures on record, the 'all-in' energy and the desperation of four guys trying to make a mark. It was our first record and we didn't take it for granted, we knew it may be our one and only opportunity. The first record has an advantage over the others – songs are written over a longer period of time and can be fine tuned at live shows. But also, the songs are free from the burden of expectation. And this is true of the excitement and naive energy of this record. We poured everything into it without distraction or second guessing ourselves. I think this is the main reason it has stood the test of time and resonates strongest with fans of the band."
Thrilled to be honouring the milestone, Robertson says, "For us, it's a privilege to be able to play these songs to a willing audience after twenty long years since the release of the album, and we can't wait to finally reunite with you all after a hard couple of years."
With a rich musical history spanning over twenty years, Motor Ace's debut album Five Star Laundry went gold within the first month of going on sale in Australia. After that massive feat, the band spent many months on the road touring and making music, with massive supports slots alongside Foo Fighters, Oasis and Blink-182. You couldn't turn on the radio without coming across Motor Ace; and as sold out shows became the norm, their tracks became a mainstay on the ARIA charts. Their timely sophomore album Shoot This was released in 2002 to abundant critical acclaim. It spawned lead single Carry On that held the coveted #1 most played song on Australian airwaves for 8 weeks in a row, and Shoot This, debuting at #1 on the charts and achieving gold sales on release.
Motor Ace is Patrick Robertson (vocals, guitar), Dave Ong (guitar), Damo Costin (drums) and Matt Balfe (bass).
Five Star Laundry 20th Anniversary edition is set for release November 5 and available to preorder now.
Tickets to the Five Star Laundry 20th Anniversary tour go on sale from www.livenation.com.au on Friday October 8 at 1pm local time.
MOTOR ACE – FIVE STAR LAUNDRY 20TH ANNIVERSARY TOUR
Tickets available from www.livenation.com.au
FRI 10 JUN | FREO SOCIAL | FREMANTLE, WA | 18+
SAT 11 JUN | BADLANDS | PERTH, WA | 18+
THU 16 JUN | THE TRIFFID | BRISBANE, QLD | 18+
FRI 17 JUN | THE FACTORY THEATRE | SYDNEY, NSW | 18+
SAT 18 JUN | THE CAMBRIDGE HOTEL | NEWCASTLE, NSW | 18+
THU 23 JUN | THE GOV | ADELAIDE, SA | 18+
FRI 24 JUN | 170 RUSSELL | MELBOURNE, VIC | 18+