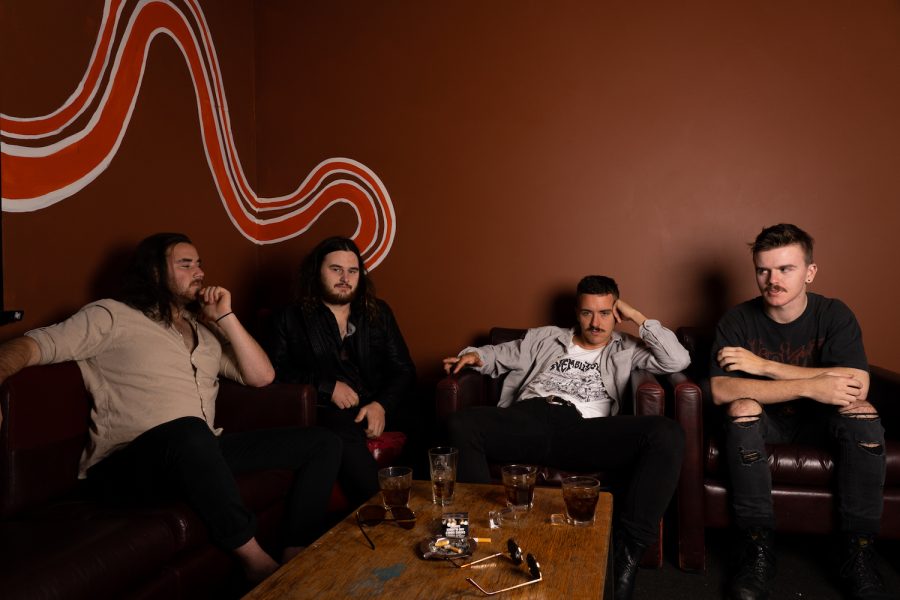 Classic rock gets a mighty modern makeover via the punchy new track RIDE from Melbourne youngsters INSTYNKT. An upbeat anthem for positive self-belief set against rock and roll served straight up, RIDE also comes belting in today with an accompanying music video, marking the band's first ever official music video released into the wild. And they'll celebrating with a gig tonight at Melbourne's iconic home of rock, Cherry Bar on Friday August 26.
RIDE radiates pub rock swagger with fresh overtones, packed full of stomping beats, passionate riffs and pure pout via lead vocalist Charlie Lane. An uplifting and elementary rock and roll gem, complete with its singalong chorus and euphoric key change closing the track out in style, RIDEbrings together INSTYNKT's various eclectic personal influences. Weaving nods to the likes of Oasis, The Doors, INXS, Guns N Roses, Toto, Foo Fighters and KISS, RIDE also ultimately fuses the band's own burgeoning sonic DNA into the mix alongside more classic inspiration, with the track serving both as a celebration of passion and a resounding declaration, as vocalist Charlie elaborates, "Ride is just a song saying "here we come, if you haven't heard about us yet, you will". It's very self-inspired and is about believing in and backing yourself with no apologies, which is how it should be if you are passionate about your cause. With that being said, staying humble is important, but you can be both humble and believe in yourself simultaneously".
Teaming up on RIDE with returning collaborator Lindsay Gravina, who has also previously worked with some sweltering Australian icons including Thirsty Merc, Magic Dirt and Nick Cave, INSTYNKT also today tick off a major first, with their first ever official music video debuting to the world accompanying the upbeat tune. Working with Andrei Satcau for the creation of RIDE's visuals proved to be a match made in heaven for INSTYNKT, with the fellow Melbourne creative seamlessly aligning with the band's ultimate creative vision for their debut music video endeavour. "We came across Andrei through another band that we played with called Among The Restless," says Charlie of the video's initial origins. "He'd done a video for them and it looked like the type of thing we were going for so I got in touch and it went from there. He's a free spirit, and our ideas clicked pretty much exactly the same as each other – so the decision to go with him was easy. It's our first proper music video that we've done so we wanted to have a pretty straightforward showcase that captures who we are. We had a video shot for another track early last year and it just didn't work. Too much emphasis on a story line and not enough on what the band was about".
Starting life as a high school band with guitarist Michael Uberti, Michael's twin brother Shilo Uberti on bass, Mac Nicholson on drums and an entirely different lead singer, the present-day INSTYNKT lineup evolved by pure coincidence one night when Charlie, who was also playing in other bands at the time, stumbled across the band's Instagram, lamenting that they already had a lead vocalist. But fortune favours the bold, and INSTYNKT's eventual fate was sealed that very night via some fortuitously-timed DMs, as Charlie shares, "I don't really know what drew me to them and was disheartened because they already had a singer but something just told me to reach out. Coincidentally, they were actually in need of a new singer! They invited me to audition – and the rest is history. The name was originally Black Temple before I joined, but we all felt that we needed a refreshed name. Shilo had a full on dream when he was younger that he was playing to a sold out crowd at Wembley under the name Animal Instinct. A lightbulb went on in my head and I suggested we simply name it Instinct. After not being completely satisfied, I changed the spelling to INSTYNKT and put it in all caps. It looked good on paper – so we went with it".
Hailing from the southeast suburbs of Melbourne, INSTYNKT have already stirred up ears and dancefloors with previous tracks Dance With Me, Angel In Disguise, Dominatrix and Flower granting a portal to past and future nights filled with good tunes, good vibes and some classic rock and roll. Come and take a ride on the INSTYNKT side and go give RIDE a spin, pronto.
RIDE is out today, Friday August 26.
FRI 26 AUG | CHERRY BAR, MELBOURNE | 18+ Tickets here