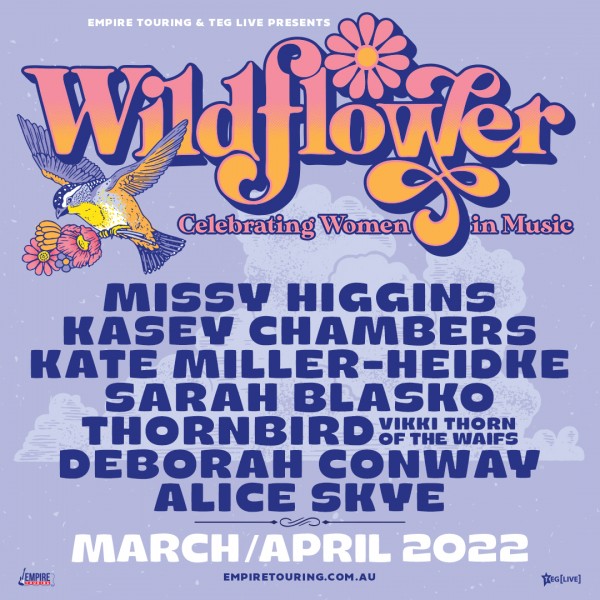 Celebrating women in music and the return of the live scene, Empire Touring and TEG LIVE are elated to announce Wildflower for 2022, a music festival that will bring together some of Australia's most prized female singer songwriters at some of the country's most exquisite locations. Featuring Missy Higgins, Kate Miller-Heidke, Kasey Chambers, Sarah Blasko, ThornBird (Vikki Thorn of The Waifs), Deborah Conway and Alice Skye, the festival will take over Rochford Wines in the Yarra Valley on March 12, before moving on to Riverstage in Brisbane on March 19 and Roche Estate in the Hunter Valley on April 2.
Tickets go on sale at www.wildflowerfestivalaustralia.com.au at 9am local time on Friday 15 October, with a 48 hour Empire Touring presale live at 9am local time on Wednesday 13 October.
"I'm beyond thrilled to be a part of Wildflower. All the women involved are total inspirations and some were actually really big influences on me in the early days of my career," enthuses Missy Higgins, who is set to drop her new single, Edge Of Something next Friday. "There's something about being on the road with so many powerful creative women, it's so rare it kind of creates magic when it happens. I was involved in the second round of Lilith Fair in America about ten years ago and it goes down as one of the best experiences I have ever had, I made lifelong friends out of it. I have no doubt this will be the same, but this time showcasing to the country the huge amount of Aussie talent we have here. An incredible way to get back in to playing live music again, holy moly I've missed it."
"The line-up contains some of my musical and personal heroes, as well as some dear friends, and it's going to be unforgettable not just for the audience but for us as well," beams Kate Miller-Heidke. "It's been a rough couple of years, and I can't think of a more beautiful catharsis than being a part of this festival. It's impossible for me to overstate how much I'm looking forward to it. Humans need connection. Wildflower will be a celebration of everything that brings people together. I'm actually choking up slightly at the mere thought of it!"
Masterminded by Empire Touring's General Manager, Isobel Lanesman, the empowered businesswoman effuses, "Wildflower is here to celebrate women in music, many festival lineups have an underrepresentation of women. It is a time to celebrate women in Australian music – artists, producers, and designers – collaborating to bring together a show of extraordinary talents."
Tickets to Wildflower go on sale at www.wildflowerfestivalaustralia.com.au at 9am local time on Friday 15 October.
Wildflower will be held with a commitment to a COVID Safe environment. Festival organisers will work closely with and comply with all requirements of the public health authorities. If the show is required to be postponed, a postponement date will be announced and punters will be eligible for a full refund if they are unable to make the new date.
WILDFLOWER 2022
Presented by Double J
SAT 12 MAR | ROCHFORD WINES, YARRA VALLEY | TICKETS
SAT 19 MARCH | RIVERSTAGE, BRISBANE | TICKETS
SATURDAY 2 APRIL | ROCHE ESTATE, HUNTER VALLEY | TICKETS