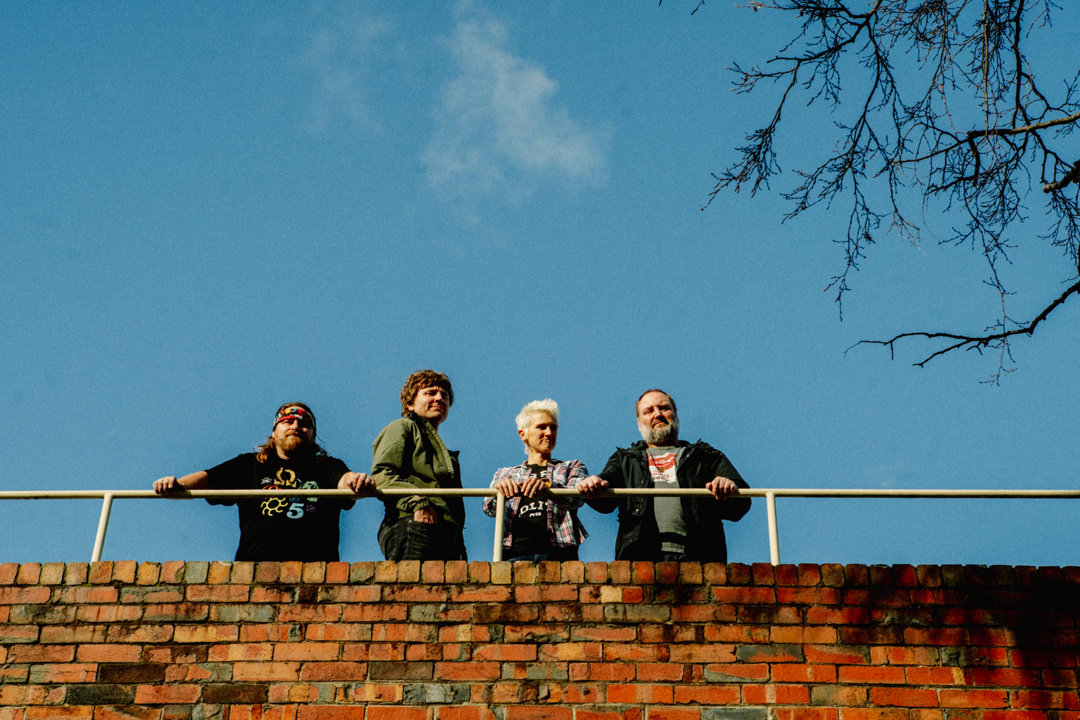 Fresh from the release of their first new single in 12 years, beloved Perth rockers Jebediah have upped the ante once again, with new single Rubberman appearing alongside the long-awaited news of their new album, OIKS. The forthcoming record – their first new album since 2011's Kosciuszko – will arrive on April 12th, 2024, with pre-orders available now via Cooking Vinyl Australia.
Their sixth album, OIKS isn't necessarily the return of Jebediah, who have been consistently active in the time since their last record, but rather, a snapshot of where the band find themselves in the current era. Like lead single Gum Up The Bearings, the record was born out of experimentation while in the studio with longtime collaborator – and honorary fifth band member – Dave Parkin (Red Jezebel, Spacey Jane). The result is an album which sees Jebediah feeling content with who they are as artists – not attempting to create the energetic hype of 1997 debut Slightly Odway, but crafting a release which feels representative of modern-day Jebediah.
While the release of September's Gum Up The Bearings was a true return to form for the WA quartet, Rubberman continues their evolving musical trajectory; pairing their revered, singular attitude towards music making with a dedication to crafting something wholly unique. Noting that their new single "sounds different to any song the band has put out" before, Rubberman began life when the band first entered Dave's Blackbird Studios back in 2018 without any indication of what they wanted to create, the band let themselves become influenced by jam sessions and the resulting sounds. Using effects and loops as the starting point to Rubberman, the group experimented heavily with melody and atmosphere, allowing guitarist and vocalist Kevin Mitchell's voice to take on a prominent role, sitting atop a luscious and spacious marriage of indie-rock and dream-pop. The result is a song which equally feels unlike anything Jebediah have ever produced, yet effortlessly slides into their expansive discography as a track emblematic of their continuous musical evolution.
"This one came about by accident. Whilst setting up a guitar for overdubbing we accidentally recorded the sound of it with really loose strings. This sound was turned into a loop and became the bedrock of a new song; a sort of weird melodic rhythmic loop track. The whole thing was built on top of that. It reflects an experimentalism in the studio that we have not really embraced before and so it sounds different to anything we've ever written or recorded before," recalls Kevin.
Alongside the release of the single, Jebediah have taken an almost full-circle approach to its accompanying visuals, sharing a beautifully-animatedclip by Gina Moore. Having initially worked with the band to craft the video to their 1997 single Harpoon, Gina now works at RMIT teaching 3D animation and visual effects in the Animation and Interactive Media program. Taking time to once again create a video for the group, Gina took inspiration from the cover illustration to James Bridle's book Ways Of Being, the paintings of Clarice Beckett, and her own work, and worked with RMIT students Jack Cornish and Eddy Faulkner to produce the final product.
"I loved Rubberman as soon as I heard it and listened to it many times while walking my dog. After playing the song over and over for several weeks, I created a storyboard in just a few hours. It came easily because my mind was full of imagery that had percolated on repeated walks through Melbourne's windy parklands. Like the song, I wanted the video to be evocative or experiential and wasn't concerned with having a definitive meaning or narrative. The song lends itself to a journey, a figure walking through a landscape. I wanted the mood to start tranquil and get increasingly chaotic as invisible forces become evident (deforming the landscape and producing colourful ribbons). I wanted it to feel Australian and to allude to global concerns including the proliferation of plastics in the environment. Although addressing dark and depressing themes, the clip needed to be visually appealing," explains Gina.
Both Rubberman and previous single Gum Up The Bearings will appear on Jebediah's forthcoming album, OIKS, which will arrive on April 12th, 2024. Pre-orders for the album are available now via Cooking Vinyl Australia. Though their first new album since 2011's Kosciuszko, the group have not been far from our hearts – or stages. In addition to sporadic tours and frequent live shows, the respective members of Jebediah have remained busy: Vanessa and Brett played in bands, Chris worked at a record store, and Kevin has focused heavily on his Bob Evans project.
Currently, Jebediah are out on the road, wrapping up a highly-anticipated Aussie tour which has seen them perform intense headline gigs in Adelaide, Brisbane, Melbourne, and Sydney. The group will wrap up their current run of shows with a headline gig in Perth on Friday, 17 November, before joining the Good Things festival lineup for a whip-around the country at the start of December. Prior to wrapping up their current run of dates, though, Jebediah will also have their name cemented in Western Australian music history, when they're inducted into the WAM Hall Of Fame as part of the WA Music Awards on Thursday, 16 November.
Rubberman is out today via Cooking Vinyl Australia.
OIKS will be released on 12 April, 2024 via Cooking Vinyl Australia, pre-order bundles available here.
Final tickets to the Gum Up The Bearings tour are on sale now from https://www.jebediah.net/
The WAM Hall Of Fame induction will take place at the WA Music Awards on Thursday 16 November at Regal Theatre.
JEBEDIAH – AUSTRALIAN TOUR:
Tickets available from Oztix
FRI 17 NOV | THE RECHABITE, PERTH WA | 18+
Tickets available from https://www.jebediah.net/
FRI 1 DEC – GOOD THINGS FESTIVAL, MELB, VIC
SAT 2 DEC | GOOD THINGS FESTIVAL, SYD, NSW
SUN 3 DEC – GOOD THINGS FESTIVAL, BRIS, QLD
Narrm neo punk/funk warriors Mammal target misinformation in scintillating fashion, with their explosive new single Keanu Reeves officially out in the world today, and also marking the band's first new material since 2022. Fittingly accompanied by a music video inspired by one of the actual Keanu Reeves' most iconic cinematic moments, the brand new Mammal outing will also be witnessed taking full, ferocious flight this December, with a special single launch show taking place on Friday December 22 at The Evelyn Hotel as part of the reinstatement of the traditional Mammal Christmas Party.
Named for the Internet's Boyfriend while also laden with the trademark Mammal spitfire stylings, Keanu Reeves finds the Melbourne quartet embracing spacious frustration and brutal neo-scream in musically muscular fashion. Drawing sonic inspiration from the equally powerful likes of Rage Against the Machine, Jimi Hendrix, Red Hot Chili Peppers, Public Enemy, Metallica and Clutch, Keanu Reeves also brought Mammaltogether with the multi-platinum awarded Jimi "The Island" Maroudas (The Avalanches, Tim Rogers, The Living End) on producing duties, as well as engineering by Tyson Fish and mixing by long-time Mammal collaborator Forrester Savell (Karnivool, Helmet, Sunk Loto). Full of riotous beats, elasticated basslines and the voracious vocal delivery of frontman Ezekiel Ox, Keanu Reeves is a lyrically pop culture-laden powerhouse beating with a timely thematic core, as Ox elaborates, "We started writing for our new album, and Pete [Williamson] and Zane [Rosanoski] came up with the original Keanu Reeves song. I flew down for a couple of days of drinking, smoking and freestyle, and the song came out. It's about misinformation, and the need for humans to be able to agree on an objective reality to survive. It's grim out there at the moment, Orwellian. But in the end, some things are real. We name check Tracy Chapman in the song too, which is exciting."
Continuing their music video hallmark of live performances, the accompanying clip for Keanu Reeves draws irreverent yet powerful inspiration from a bona fide 90s action movie classic, Mammal-style. With long-time friend and creative collaborator Dean J Miller shooting and editing, the end result for the Keanu Reeves music video proves that humour and hard-hitting thematics can truly go hand in hand, with the end result also featuring a local Narrm coastal setting to backdrop the memorable clip. "Mammal always performs live in our clips," shares Ox. "The dancing is important to our culture and mission, so we set up at a local Narrm beach for the live stuff. The clip is a tongue-in-cheek recreation of the original Point Break, which of course starred Keanu Reeves alongside the late Patrick Swayze. Expect chase scenes, tuxedos and ex-Presidents of the USA galore. The concept? Have fun and make something entertaining, it's not rocket surgery."
Since forming and releasing their debut self-titled EP in 2006, Mammal have toured relentlessly while also crafting a formidable reputation for their animated live performances, timeless sonic creations and authentic, working-class political activism that has garnered the quartet an ever-growing cult-like status across the globe. Revered as a "must see" rock'n'roll juggernaut, Mammal's back catalogue includes their striking singles Smash The Pinata, The Majority, Hell Yeah! and Think, with their touring history also spanning headline shows in London, Perth, Auckland, Brisbane and everywhere in between, as well as supports with some of the heavy scene's towering giants, including Kiss, Avenged Sevenfold, Sebastian Bach, Cog, Grinspoon, Spiderbait and Shihad to name a mere few. A band who also walk the walk alongside their musical calls-to-action, Mammal have also previously volunteered their live services, raising much-needed funds for various charities, supporting Interchange, the Refugee Action Collective and Fitzroy Legal Service over the years.
 Now primed to release their sophomore studio album The Penny Drop in 2024, the long-awaited follow up to the band's debut full length The Majority in 2008, Mammal are ready once again to fly their commanding flag for meaningful rock'n'roll with a newfound and dynamic vigour. And, as Ox concludes, Mammal are entirely locked and loaded to light the fire loudly and proudly once more, with Keanu Reeves gifting the perfect kindling to close out 2023, and leading into an unforgettable 2024 from the band. "We feel ready and raring to go," says Ox. "We say what we want, how we want and play loud and proud. We believe that at its best, rock and roll is a form of rebellion. Punters know when they come to the show that we give shit, about the music, about them. About their schools and unis, their hospitals and parks, their housing situation. Their favourite bands. We always punch up, and we aren't pulling the ladder up behind us."
Keanu Reeves is out today, Wednesday November 15.
The Penny Drop is set for release in 2024.
MAMMAL – TOUR DATES;
FRI 22 DEC | THE EVELYN HOTEL, MELBOURNE VIC | 18+
Tickets available from www.mammal.oztix.com.au | 1300 762 545 | All Oztix Outlets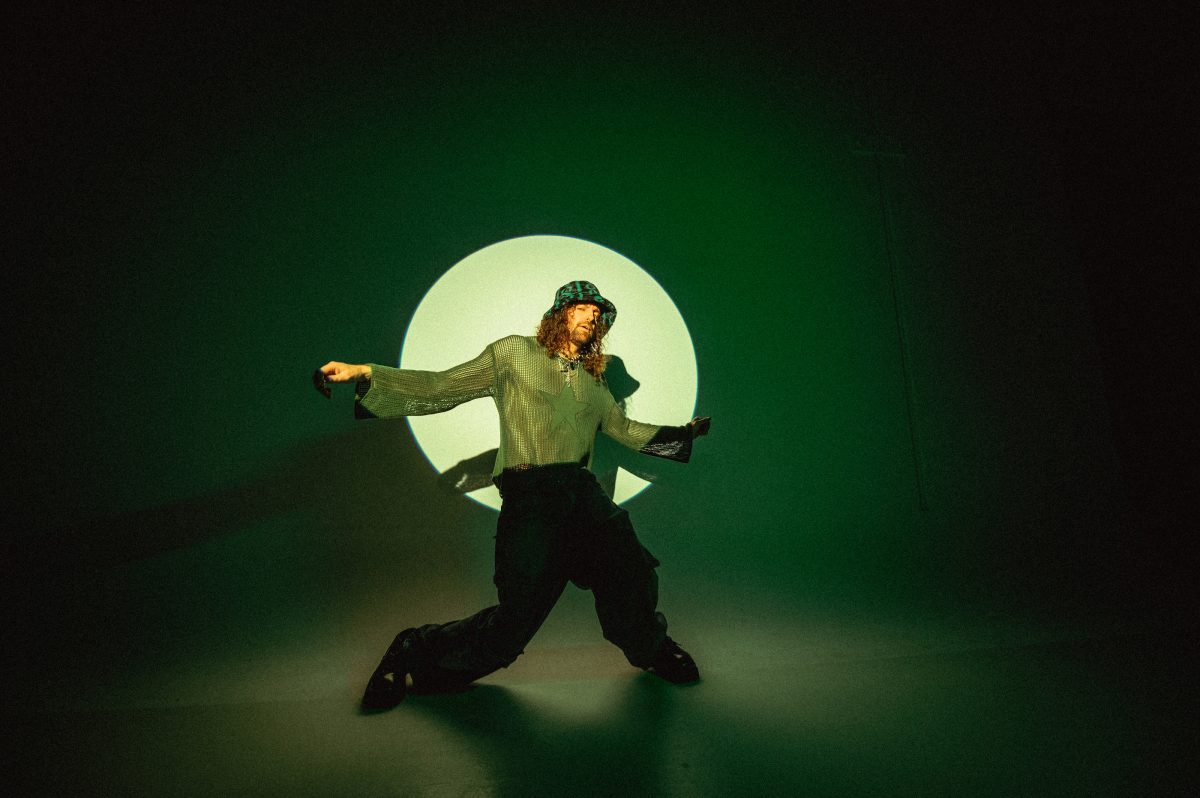 Come and lose yourself in the breathless new chapter of Boo Seeka, aka the hypnotic project driven by Australian singer-songwriter Ben "Boo" Gumbleton, with the talented artist today announcing a brand new album, MIDNIGHT HIGHLIGHT, set for release on Friday 19 January; and an extensive tour to follow in February and March next year.
Heralding a brand new album chapter last week with a fresh new single Come With Me, Boo Seeka served up a lustrous twinkle of smooth beats, summery electronics and compelling vocals. Also adding a calm yet powerful addition to the burgeoning Boo Seeka legacy, Come With Me effortlessly ignites an exciting sonic rebirth for Boo Seeka following the release of his sophomore album Between The Head & The Heart in 2022, with album #3, MIDNIGHT HIGHLIGHT, set to open the floodgates into the essence of the Boo Seeka creative psyche in 2024 – and the album's accompanying tour is also set to offer equal moments of immersion, escapism and otherworldly bliss in a way only Boo Seeka can facilitate. Starting out on Friday 16 February in Maroochydore in Queensland, the MIDNIGHT HIGHLIGHT album tour will make its way to Brisbane, Sydney, Newcastle, Gold Coast, Melbourne, Rye, Belgrave, Adelaide, Hobart, Margaret River, Bunbury, Fremantle, Mackay and Townsville, before concluding on Saturday 23 March at Gilligans in Cairns.
An artist presale is now live using the code MIDNIGHT and general public tickets go on sale at 9am AEDT on Tuesday 31 October from https://www.booseeka.com/
Spurred by his pursuit to find and provoke clarity and happiness via music, Boo Seeka consistently builds his immersive sonic worlds around eclectic and invigorating foundations, with his freshly announced upcoming album set to expand further into unbridled territory, as Gumbletonexplains, "MIDNIGHT HIGHLIGHT means a new chapter has been written for me personally, and I can't wait to go share it with people who want to be part of it. I'm not saying we are reinventing the wheel here, but I don't think anyone can say we sound exactly like any other artist, which is what I think any creative person should strive for. Each album (and each track to be honest) will change, and we are not going to put ourselves in a box for the years to come. What sounds good to us in that moment is what we write and record!"
Set to christen MIDNIGHT HIGHLIGHT across the country in 2024, fans can also expect moments of pure, exhilarating Boo Seeka magic next February and March, with the seasoned performer ready to return to the space that has simultaneously anchored and grown the Boo Seeka journey to date: performing live on stage alongside bandmate Jay Bainbridge. "Touring and playing live, I think, has always, and will always be, the biggest part and growth for Boo," shares Gumbleton, "for two reasons: some people meditate, do yoga, surf etc. to feel grounded and reset. For us, it's playing live. When we are off the road, we both get quite anxious and some anxiety, to be honest. So the more touring, the better. We always want to get better at our craft every time we go out on the road so that hopefully people can expect a better show than the last. It always makes us happy when we hear people tell us that this is their 10th, 15th etc. time seeing us, as it makes us feel like we always put on a good show. If someone comes for the first time, we just hope they become one of those people."
Unforgettably emerging onto the Australian music landscape via the astral debut single Kingdom Leader back in 2015 and a debut album Never Too Soon in 2017, Boo Seeka continues to create and cultivate triumphs, witnessed most recently via the hotly-anticipated second full-length album Between The Head & The Heart in 2022, and a collab with acclaimed Aussie artist Hayden James on the track Free, also culminating in Boo Seekaappearing with James onstage at the iconic Coachella Festival in California last year. With millions of streams across his catalogue, Never Too Soon peaking at #8 on the ARIA Charts, three certified gold tracks and countless live performances under the Boo Seeka belt, including appearances at Splendour In The Grass and Beyond The Valley, three sold out headline runs and supporting the likes of Hayden James, MIDNIGHT HIGHLIGHT is set to add yet another dazzling high point in the Boo Seeka journey; and it will be truly something to savour for both Boo Seeka and fans across Australia, as he concludes, "Every show brings a new experience, and that is another reason we love being on the road. As an artist, I hate normality because it's not inspiring to us. Because of this, we seriously look forward to each show ahead and look forward to what it will bring."MIDNIGHT HIGHLIGHT is set for release Friday 19 January.
Tickets to the MIDNIGHT HIGHLIGHT album tour go on sale at 9am AEDT on Tuesday 31 October from https://www.booseeka.com/
MIDNIGHT HIGHLIGHT ALBUM TOUR

FRI 16 FEB 24 | SOLBAR, MAROOCHYDORE QLD | 18+
Tickets available soon from www.oztix.com.au | 1300 762 545 | All Oztix Outlets
SAT 17 FEB 24 | THE TRIFFID, BRISBANE QLD | 18+
Tickets available soon from www.moshtix.com.au | 1300 GET TIX | All Moshtix Outlets
FRI 23 FEB 24 | METRO THEATRE, SYDNEY NSW | 18+
Tickets available soon from www.ticketek.com.au | 1300 364 001 | All Ticketek Outlets
SAT 24 FEB 24 | KING STREET BANDROOM, NEWCASTLE NSW | 18+
Tickets available soon from www.oztix.com.au | 1300 762 545 | All Oztix Outlets
SUN 25 FEB 24 | MIAMI MARKETTA LANEWAY, GOLD COAST QLD | 18+
Tickets available soon from www.oztix.com.au | 1300 762 545 | All Oztix Outlets
FRI 1 MAR 24 | CORNER HOTEL, MELBOURNE VIC | 18+
Tickets available soon from www.oztix.com.au | 1300 762 545 | All Oztix Outlets
SAT 02 MAR 24 | HABA, RYE VIC | 18+
Tickets available soon from www.moshtix.com.au | 1300 GET TIX | All Moshtix Outlets
SUN 03 MAR 24 | SOOKI LOUNGE, BELGRAVE VIC | 18+
Tickets available soon from www.oztix.com.au | 1300 762 545 | All Oztix Outlets
FRI 08 MAR 24 | LION ARTS FACTORY, ADELAIDE SA | 18+
Tickets available soon from www.moshtix.com.au | 1300 GET TIX | All Moshtix Outlets
SAT 09 MAR 24 | UNI BAR, HOBART TAS | 18+
Tickets available soon from www.oztix.com.au | 1300 762 545 | All Oztix Outlets
FRI 15 MAR 24 | THE RIVER, MARGARET RIVER WA | 18+
Tickets available soon from www.oztix.com.au | 1300 762 545 | All Oztix Outlets
SAT 16 MAR 24 | FROTH CRAFT BUNBREWERY, BUNBURY WA | 18+
Tickets available soon from www.humanitix.com.au |  +61 2 7202 6035 | All Humanitix Outlets
SUN 17 MAR 24 | FREO.SOCIAL, FREMANTLE WA | 18+
Tickets available soon from www.moshtix.com.au | 1300 GET TIX | All Moshtix Outlets
THU 21 MAR 24 | SEABREEZE HOTEL, MACKAY QLD | 18+
Tickets available soon from www.oztix.com.au | 1300 762 545 | All Oztix Outlets
FRI 22 MAR 24 | OTHERWISE BAR, TOWNSVILLE QLD | 18+
Tickets available soon from www.moshtix.com.au | 1300 GET TIX | All Moshtix Outlets
SAT 23 MAR 24 | GILLIGANS, CAIRNS QLD | 18+
Tickets available soon from www.oztix.com.au | 1300 762 545 | All Oztix Outlets