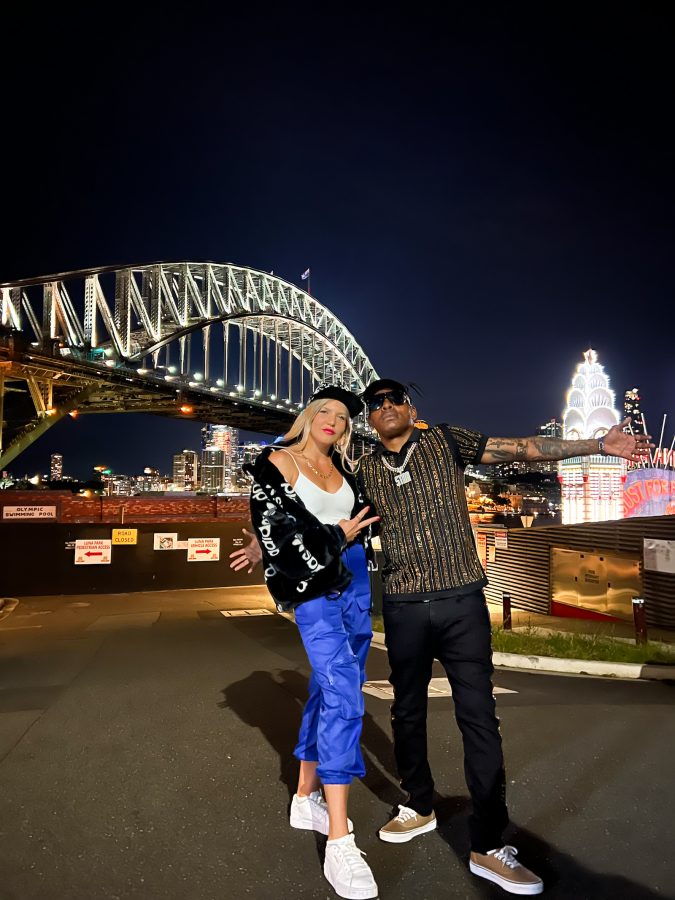 Unexpectedly marking a posthumous release for one of the most successful rappers of his time, the new single Do You Want It by the legendary Coolio and featuring Australian rap and pop artist Katija is a cheeky yet dominant jam loaded with lashings of vivid sensuality. Having been in motion prior to Coolio's untimely passing, Do You Want It releases today as previously planned by both Coolio and Katija on October 28; and, by sheer coincidence, the track's unveiling falls exactly one month since the world lost the pioneering rapper, producer and actor.
Bringing together Aussie rapper Katija's sharp delivery with Coolio's trademark flair, Do You Want It was inspired by the music and cheek that Coolio himself was feeling while visiting Australia. Having met Coolio while he was in Melbourne, Katija's fateful in-person introduction to Coolio at the time inadvertently grew into creative and collaborative magic, with Coolio soon reaching out to Katija to feature on a new song he'd been working on. "It was one of those times in life where the stars just aligned," shares Katija of meeting and eventually working with Coolio."I had just started working on my first few singles at Cosmic Bounce Records Studio's in Brunswick with my talented producer, KB. Coolio was here in Melbourne for the Made In The 90s Tour and he was introduced to the studio by Scorpion Media who had met him behind the scenes at the Bliss N Esso concert where he performed Gangsta's Paradise in February this year. Coolio had a creative itch to start writing music again, you could see it and feel it in his energy. Coolio said he had been to other studios around Melbourne, yet had never finished a song and said it wasn't until he walked into CBR that he finally felt at home. It was the night of my video clip shoot for my single Lullaby, and here was Coolio just chilling on the couch hanging out after he'd finished a recording session with KB. Coolio stayed the entire night to hang out with us and even started writing his own verses to my song. Two weeks later Coolio was in another session with KB working on one of the few songs they had started together and he decided Do You Want It needed a female feature artist. As we had already started to develop a relationship, I came by the studio, sat in on the session and then began to put pen to paper and write the female version of his verses as my reply. Before I knew it, I was in the recording booth with Coolio mentoring me on how to execute the lyrics on his track." KB adds, "Coolio saw something special in Katija before she even stepped into the booth, he'd tried to finish songs with feature artists, but had trouble finding artists who could match his energy, but Katija did just that."
Boasting sultry horn samples, swaggering beats and oscillating audacious vocals between Coolio and Katija, Do You Want It started life as a beat that instantly connected with Coolio via its fresh and fun 90s inspired sound. Co-written by Coolio and Katija, produced, engineered, mixed and mastered by Kristo Beyrouthy, aka kb808 – the creative spark behind the head-turning beat, Do You Want It went on to evolve into its jaunty end result via Coolio and Katija's unique sonic strengths, with Katija also drawing on her adoration for another iconic rapper for her hypnotic vocal stylings on the new tune, as she explains, "My favourite rapper of all time is Eminem. I was given the nickname Feminem growing up because all I wanted to do when I went to parties or hang out with friends was to show everyone how I can rap any of Eminem's songs word for word, breath for breath. The beat for Do You Want It was produced by kb808, and instantly Coolio loved it, the writing came so naturally to him, because the sound was familiar to his 90s style music background and influences."
Harnessing her love of performance and all things creative before going on to study music, dancing and acting, Katija has frequently appeared on stage in musicals and has worked as a professional Brazilian Samba and Go-Go dancer; but her passion and natural ability for rapping has continuously been apparent, with the talented Sunshine Coast-turned-Melbourne-based artist dreaming of life as a rap artist and hip hop dance performer. Temporarily putting her dreams on hold six years ago to support herself and her mother financially, Katija has tirelessly worked behind the scenes over the years to not only bolster her personal and professional pursuits, but also to truly manifest her ultimate creative desires; a fact that also led to her dancing on stage with Coolio in Sydney for the late rapper's Made in the 90s Festival appearance.
While the world collectively mourned the untimely death of Coolio on September 28 this year, Coolio's legacy inevitably permeates, from his rise as part of WC and the Maad Circle to his Grammy Award-winning single Gangsta's Paradise, a giant array of film and television appearances, eight studio albums and global acclaim since first emerging professionally in the late 80s. With Do You Want It planned for release on October 28 well before Coolio's death, the single was also intended to be the first of many more creative collaborations between Coolio and Katija's, as Katija reveals, "This release had only just scratched the surface of the adventure we had planned, we set the October release date in July. The peculiar thing about this date is that it falls exactly one month to the day of his passing and we felt we needed to honour what was already set in motion and follow through with the release date as planned, even though the circumstances had changed, it is what Coolio would have wanted."
A bittersweet last musical gift showcasing Coolio's incomparable artistic talents, Do You Want It is unapologetically fun and fearless; a modern nod to the rap gods of old alongside an enigmatic showing from a magnetic Aussie artist. "Coolio truly was one of the world's greatest and most iconic rappers of our time," Katija concludes. "He paved the way for rap and hip-hop music to break into the pop music scene and opened the door for many of the great hip-hop artists to follow. To be featuring on a song with one of my biggest idols in the hip-hop music scene is absolutely surreal. I am beyond grateful and blessed for the opportunity I had to work with Coolio. Even though our time was sadly cut short, I will cherish the memories of time we spent together and the relationship we built. Now all I can say is I am honoured to be able to share one of his last ever singles with the world and give everyone the special gift of being able to hear Coolio's iconic voice on a new song one more time."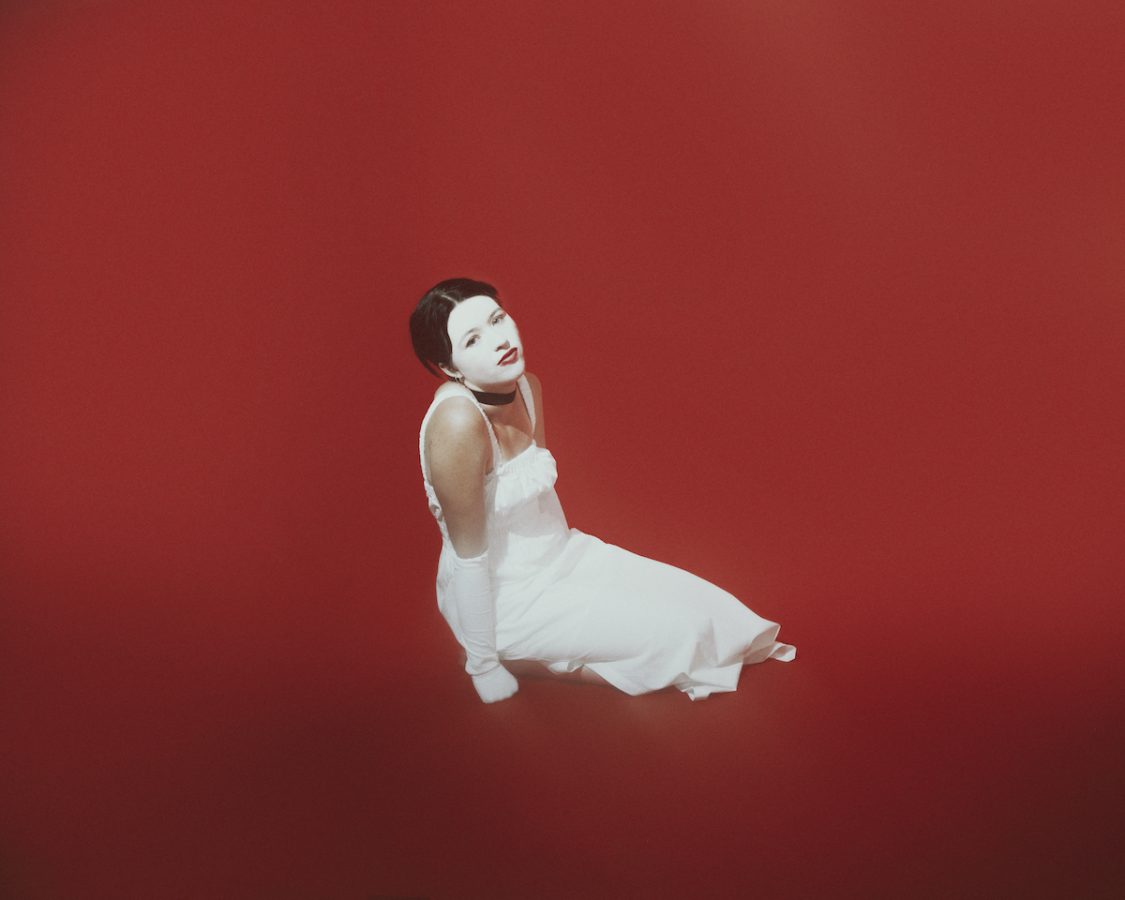 Enter into the lush and mysterious realm of Melbourne multi-instrumentalist Emily Victoria, with her brand new track Humming Heart making its way into the world today. Also accompanied by an immersive and intriguing music video, Humming Heart murmurs with rich instrumentals and effortless charm like a hazy twilight spell.
Inspired by the likes of Hatchie, Kate Bush, Caroline Polachek and The Sundays, Humming Heart is a layered, bold and dreamlike affair, equally warm and beguiling with a retro undertone amidst Emily's textured vocals. Recorded to tape at Soundpark Studios with producer Nao Anzai, who has previously worked with Mildlife and The Teskey Brothers, Humming Heart hums along with synthesisers and production by Lewis Moody, additional vocal production provided by Hamish Patrick, guitars by Anthony Farrugia, Jacob Long on drums and Sam Clarke on bass, while also contemplating the unknown and existence in general, as Emily explains, "The lyrics for Humming Heart are quite abstract, like the video. It's ultimately about having curiosity and intrigue, exploring the unknown and encountering the supernatural. It's also about considering the cause of our existence and trying to make sense of one's experience".
The accompanying music video for Humming Heart seamlessly adheres itself to the absorbing and curious nature of the overall track, with Emily teaming up with Jeff Andersen Jnr on directing and editing duties to bring the luminous yet moody clip to life. Featuring Emily and contemporary dancer and artist Nikki Tarling, the clip ultimately evolved from an eccentric idea revolving around limbs into a full-blown narrative, and painstakingly timed lights, as Emily reveals, "Jeff thought of the idea for this video. In its early stages the concept was close up shots of limbs doing peculiar things at different angles, e.g. a pair of hands tidying with a dustpan and shovel. Then Jeff suggested that I act as a cautious hotel manager who sees unusual limbs in rooms with eerie lighting. We both liked there being unity at the end point of the video. The video was so much fun to make! We were a team of six filming the video at St George's Inn in Thornbury over two nights. It was all very thoughtfully planned, however there were some last-minute changes with the crew, which gave it a very spontaneous feeling! The lighting setup was extensive, thanks to Mike Ridley. We were able to sync the lighting with the rhythm of the song".
A lover of busy cities, the creative process, Gustav Klimt and the colour red, Emily's enchanting flair as an artist ultimately stems from her love for life and a constant pursuit to challenge herself, and Humming Heart is a sublime and elegant addition to her ever-evolving journey.
Humming Heart is out today, Thursday November 10.
A warm and lucid bundle of smooth alt-country swoon, the brand new track Blue Wildflowers out today from Melbourne singer-songwriter Rich Webb marks a third peek into Rich's upcoming fifth full-length album RIGHT!, set for release on December 9. An immersive amalgamation of the likes of Bob Dylan, apologies and lost loves, Blue Wildflowers will be witnessed live in action in Brunswick at the Union Hotel on Saturday December 10, as part of a special album launch show to celebrate all things RIGHT!.
Blue Wildflowers unfurls like a gossamer flower petal on a warm summer's day, with nods to artists Rich himself holds in high esteem, including Sparklehorse, Bob Dylan, Patty Griffin, Silver Jews, John Prine, Vic Chesnutt and, a recent addition to Rich's listening repertoire, American singer-songwriter Kevin Morby. Penned as an intimate atonement and a timely reminder, stemming from personal experiences, Blue Wildflowersis a bittersweet yet lolling rumination for both Rich personally and the broader audience, as Rich explains, "It's in many ways an apology song – to a few people broadly, but one lovely person in particular that I didn't treat as well as I should have done. Not saying on any level that everything was my fault – that's not true and never can be – but when beautiful things turn sour for whatever reason, you have a responsibility as part of it. It takes two to make something work and grow – you both need to nurture what you have. And I could have done a lot of things better and been more careful and protective of the relationship and love we had. I wanted to say sorry for that – for being so careless and reckless with something as delicate and pure as that kind of rare love. More broadly also, I have tended to be a bit like that through much of my life too and I also wanted to get this song down – like a tattoo or something – to try and remind me not to behave like that in the future. So I won't forget and fuck up again, or something like that. To remind me to appreciate the moment and the great things I have in my life and to think more before jumping off a cliff in search of something else."
Produced by Rohan Sforcina, Rich Webb and Phil Wakeman, Blue Wildflowers was itself a significant catalyst for its overarching album RIGHT!, with Rich and Rohan bottling lightning early on in the process via the track, as Rich reveals, "Blue Wildflowers is the third single from the new album RIGHT!, the lead track and I reckon the heart and soul of the record. I wrote this song first and as soon as it dropped out, I thought it was too good not to do something with. It kind of shaped the rest of the songs that followed, and the sound of the record as a whole. I think I got some cred with producer Rohan Sforcina with it too, as he seemed to like it and it was one of the songs we tried on the first day… and that helped form the bond we needed to make the thing, and a strong one it is too. It's a pretty important song for me, and something I felt I needed to do. I'm proud of it on so many levels."
The accompanying video for Blue Wildflowers perfectly complements the warm and billowing sonic tapestry weaving throughout, with Richteaming up with good friends Matthew Lawes-Wickwar and Louis C Brandt to bring the music video to fruition. Capturing a real-life road trip for Rich, his family and crew, the end result is equally genuine and grounding, with the filming experience also celebrating the beauty of country Victoria, as Rich shares, "The idea was simple – a road trip into country Victoria for three days – and to film whatever we fancied along the way. Louis jumped in a hire car with me and a load of camera equipment, and my partner Emma and our two boys jumped in our car and we set off. It ended up being the most amazing trip – a hell of a lot of fun, some stunning images, an absolute pleasure to get out of town and everyone we met along the way was so positive and upbeat. I came back full of that positivity and just pleased we'd got out there for three days – it's such a wonderfully beautiful and intense country we live in. There were two real highlights – Lake Tyrrell at dawn, an inland salt lake in the Mallee part of north-west Victoria, which was cosmically beautiful – that's where the surreal pink-tinged footage came from in the middle of the clip … it was quite an amazing experience… and The Victoria Hotel in Dimboola, which was a totally rad place to stay – that's where the back end of the video was shot. Wow, it's beautiful out there!".
Named RIGHT! after Rich's catchphrase when he wants to get something done, the new album builds yet diverts from Rich's previous release Le Rayon Vert, with the 2018 album scooping up 2019's Alt-Country Album of the Year at the Independent Music Awards. After fiddling with ideas on and off for a while, Rich decided to create RIGHT! locally, with different equipment and ultimately sought to shake up his modus operandi – and the rest, as they say, is history. Buoyed by the creation of RIGHT!'s opening track Blue Wildflowers early on in the album journey, RIGHT!covers everything from the maudlin swaying nostalgia laced with trumpets on Love Someone to the glistening drive of I Don't Mind At All (Bring On Summer), mellow yet upbeat twangs (50 Miles), stripped-back bluesy tranquility (You're Always Here In My Mind), oozing jazzy arrangements laden with electronic guitar (The Last Rowdy Hour), emphatic narratives (Nothing To Lose), toe-tappin' gems (Shapeshifter) and soaring odes (Dead City). With Rohan also recording and mixing RIGHT! alongside producing duties, RIGHT! was mastered by Pete Lyman in Nashville, who has previously worked with the likes of Chris Stapleton, Tom Waits, Weezer and Panic! At The Disco. And starting life with Rich exploring ideas armed with nothing but his voice and a guitar, the time could not be more right for Rich to finally share his latest creation with the world, as he says, "In many ways it feels a long time coming, even though it hasn't been that long really. It's the anticipation I reckon – you put your whole self into making a record and from the moment the last note is locked in, can't wait to get it out there. Time seems to go so very slow and then, finally, it's a happening thing!".
Already a critically acclaimed fixture in the Australian music industry, Rich has repeatedly been favourably compared to some of the singer-songwriter greats like Bob Dylan and Bruce Springsteen, with his recent releases scoring attention from Rolling Stone Australia, Beat Magazine and Music Feeds. A tried-and-true troubadour eternally in command of his craft and lyricism, Rich previously took out both Alt-Country Album Of The Year and Alt-Country Single Of The Year at the Independent Music Awards in New York in 2019 for Le Rayon Vert and Let Out Rainrespectively. More recently, Rich turned his gaze to raise awareness about the treatment of asylum seekers on his powerful single Love Someone, delivering not just a stunning musical triumph but also a hard-hitting message that all humans deserve to live peacefully, whoever they are, and wherever they're from. Rich's genuine delivery and sharpened musicality has seen him embraced around the globe throughout his career; and 2022 is only set to further the Rich Webb story to even greater heights.
Fresh off performing at Brunswick Artists' Bar in Victoria in late October, Rich will launch RIGHT! officially live onstage on Saturday December 10 at Union Hotel in Brunswick, and these shows will perfectly capture the beautiful essence of the album's nine tracks, as Rich concludes, "The album launch will be the record, played like it was written – and with joy and energy of getting it all together. I will be playing with a cracking band including Matt Dixon on guitar and Jim Carden on drums, both of whom are on the record, and Alics Gate-Eastley on bass, plus a few special guests too. It's going to be great fun!".
Blue Wildflowers is out today, Tuesday November 8.
Right! is due for release on Friday December 9.
RICH WEBB – UPCOMING TOUR DATES:
SAT 10 DEC | UNION HOTEL, BRUNSWICK VIC | 18+
Album launch – from 5pm, free admission