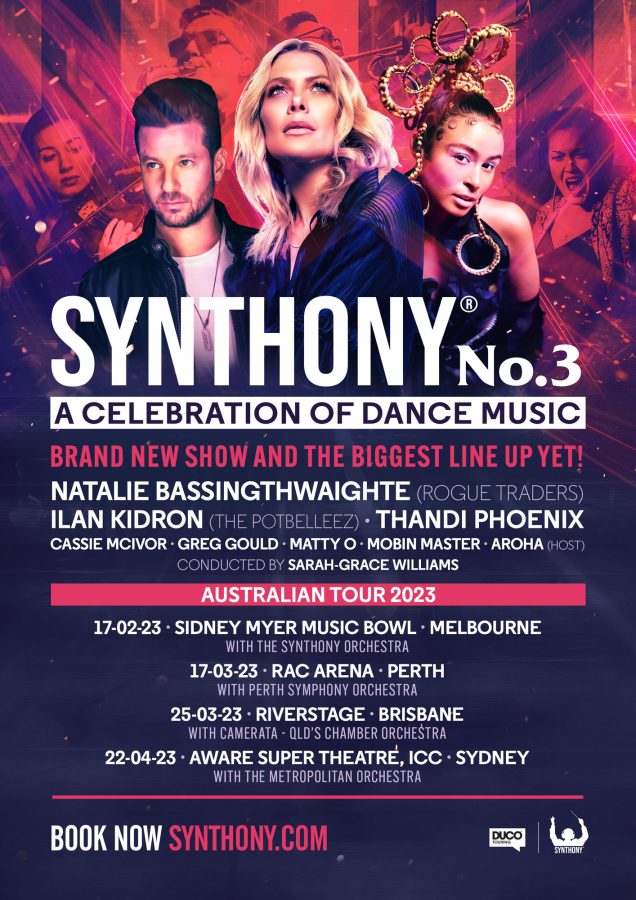 Following back to back sold out events across Australia and New Zealand, including last fortnight's synchronised events at Sydney's spectacular Cockatoo Island and Singapore's iconic Marina Bay Float, SYNTHONY is thrilled to announce its return to Australia this summer with a brand new show: SYNTHONY No.3. Boasting a star studded line up with Natalie Bassingthwaighte (Rogue Traders), Thandi Phoenix, Ilan Kidron (The Potbelleez) et.al, the lavish celebration of dance music continues with a fresh setlist of massive dance tracks performed with a mix of live orchestra, vocalists, instrumentalists, and DJs in what is set to be its biggest and most dynamic lineup to date.
The tour will start outdoors on Friday 17 February at Melbourne's Sidney Myer Music Bowl, as part of the Live at the Bowl summer event series, followed by Perth, returning to RAC Arena on Friday 17 March, before heading back to Brisbane's Riverstage Amphitheatre on Saturday 25 March, and finishing up at Sydney's Aware Super Theatre, ICC on Saturday 22 April.
Tickets to SYNTHONY go on sale via www.synthony.com from 10am local time (MEL, BNE, SYD), 11am local time (PER) on Wednesday 16 November, with a SYNTHONY presale live at 9am local time on Tuesday 15 November.
Featuring new music from Disclosure, Eric Prydz, Flume, Calvin Harris, Wilkinson and many more, this is undoubtedly the biggest orchestrated dance party in Australia.
With superstar of the screen and stage, Natalie Bassingthwaighte (Rogue Traders) and emerging soul powerhouse Thandi Phoenix joining the show, SYNTHONY No.3 is also proud to welcome back fan favourite SYNTHONY alumni; Ilan Kidron (The Potbelleez), Cassie McIvor, Greg Gould, Matty O, Mobin Master, and event host, Aroha, with more acts to be announced. And bringing the newest iteration of SYNTHONY to life will be master conductor Sarah-Grace Williams who has established a well-earned reputation as one of the best conductors in the Southern Hemisphere.
"This show is SYNTHONY all grown up, like a coming of age! SYNTHONY no.1 is a bit of a nostalgic trip down memory lane, celebrating 30 years of global dance anthems, SYNTHONY no.2 is a little edgier, we still have a show packed with classics but introduce some more new music as well, and  Synthony no.3 takes that one step further – the best of EVERYTHING!  I am so incredibly excited to be unleashing Synthony no.3 onto Australian audiences, they are going to love this show!" enthuses conductor Sarah-Grace Williams, who has been with the brand since its Australian inception.  "For those who have already seen SYNTHONY 1 & 2, you ain't seen nothing yet!  And for those who have never seen a show – now is the time!"
Excited to join the SYNTHONY family, Natalie Bassingthwaighte says, "It is incredible to be performing again, and in such an amazing format after the Covid Hiatus. There's nothing better than performing with a live orchestra, especially with the fusion of dance music, electronics and amazing visuals."
Following a sold-out tour of SYNTHONY No.3 in New Zealand in 2022, a critically acclaimed debut of SYNTHONY and showcase of SYNTHONY No.2 shows across Australia, and a recent blockbuster debut into South East Asia on the revered Marina Bay Float, Singapore – Duco Events is proud to continue the success story of SYNTHONY in Australia, and to deliver fans the hottest orchestrated dance party of 2023.
Offering insight into the event's impressive trajectory and revealing a little more of what's to come this year, Duco Events Group General Manager, Randall Nolan says, "SYNTHONY's global compatibility and dynamic nature allows it to perform anywhere and speak any language through its music, and 2023 is set to be the biggest year yet. On top of the Australian run of shows, SYNTHONY will dive in on festival headline performances (Electric Avenue – Christchurch), launch its very own festival 'SYNTHONY in THE DOMAIN' (April 1, 2023), continue its expansion into South East Asia and make appearances at globally recognised sporting events."
SYNTHONY No.3 will get your heart racing and feed your soul with joy, as it triggers dance memories with reimagined iconic club anthems and future classics.
For more information and to sign up for the SYNTHONY presale, head to www.synthony.com
Check out some footage from the recent 2022 shows.
SYNTHONY NO.3 AUSTRALIAN SHOWS
FRI 17 FEB | SIDNEY MYER MUSIC BOWL, MELBOURNE| 18+ 
Feat. The SYNTHONY Orchestra, conducted by Sarah-Grace Williams
Tickets available from www.ticketek.com.au
FRI 17 MAR | RAC ARENA, PERTH| 18+ 
Feat. Perth Symphony Orchestra, conducted by Sarah-Grace Williams
Tickets available from www.ticketek.com.au
SAT 25 MAR | RIVERSTAGE, BRISBANE| 18+ 
Feat. Camerata – Queensland's Chamber Orchestra, conducted by Sarah-Grace Williams 
Tickets available from www.ticketmaster.com.au
SAT 22 APR | AWARE SUPER THEATRE, ICC, SYDNEY| 18+ 
Feat. The Metropolitan Orchestra, conducted by Sarah-Grace Williams
Tickets available from www.ticketek.com.au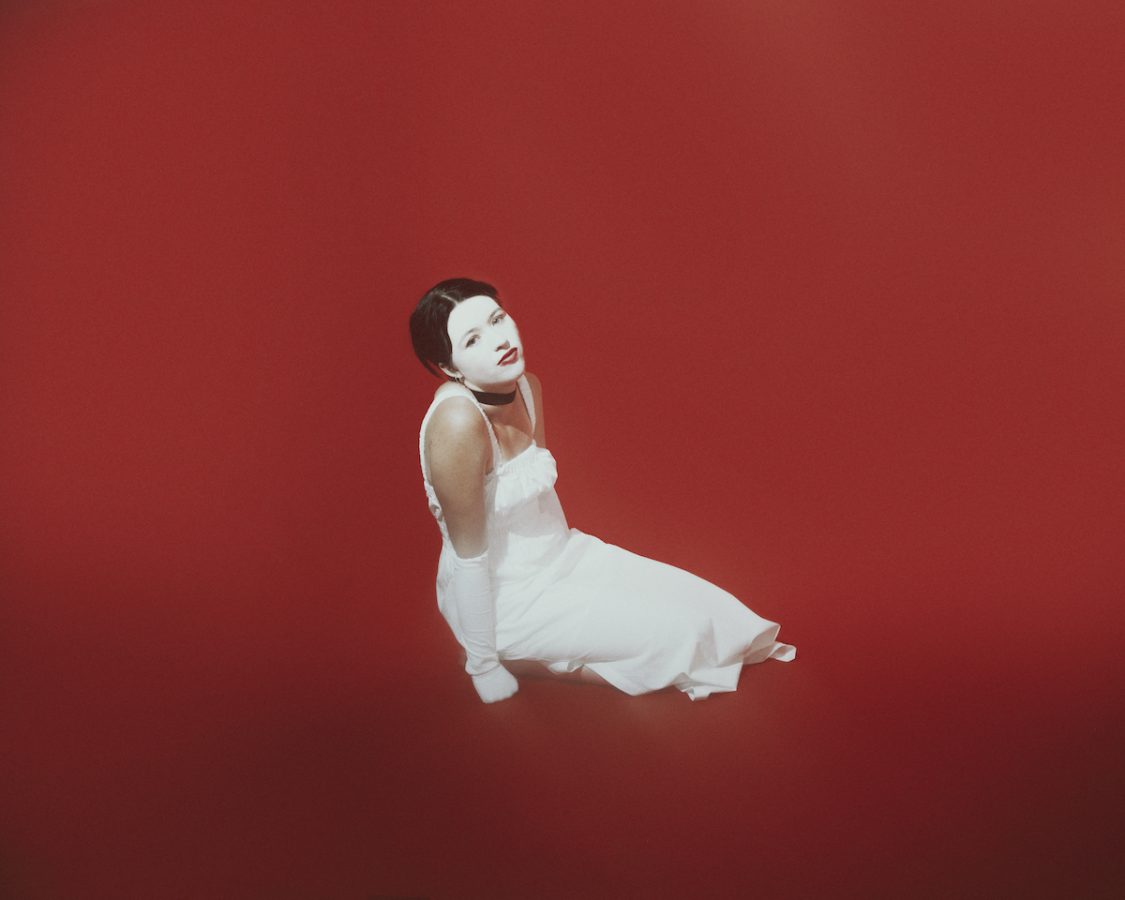 Enter into the lush and mysterious realm of Melbourne multi-instrumentalist Emily Victoria, with her brand new track Humming Heart making its way into the world today. Also accompanied by an immersive and intriguing music video, Humming Heart murmurs with rich instrumentals and effortless charm like a hazy twilight spell.
Inspired by the likes of Hatchie, Kate Bush, Caroline Polachek and The Sundays, Humming Heart is a layered, bold and dreamlike affair, equally warm and beguiling with a retro undertone amidst Emily's textured vocals. Recorded to tape at Soundpark Studios with producer Nao Anzai, who has previously worked with Mildlife and The Teskey Brothers, Humming Heart hums along with synthesisers and production by Lewis Moody, additional vocal production provided by Hamish Patrick, guitars by Anthony Farrugia, Jacob Long on drums and Sam Clarke on bass, while also contemplating the unknown and existence in general, as Emily explains, "The lyrics for Humming Heart are quite abstract, like the video. It's ultimately about having curiosity and intrigue, exploring the unknown and encountering the supernatural. It's also about considering the cause of our existence and trying to make sense of one's experience".
The accompanying music video for Humming Heart seamlessly adheres itself to the absorbing and curious nature of the overall track, with Emily teaming up with Jeff Andersen Jnr on directing and editing duties to bring the luminous yet moody clip to life. Featuring Emily and contemporary dancer and artist Nikki Tarling, the clip ultimately evolved from an eccentric idea revolving around limbs into a full-blown narrative, and painstakingly timed lights, as Emily reveals, "Jeff thought of the idea for this video. In its early stages the concept was close up shots of limbs doing peculiar things at different angles, e.g. a pair of hands tidying with a dustpan and shovel. Then Jeff suggested that I act as a cautious hotel manager who sees unusual limbs in rooms with eerie lighting. We both liked there being unity at the end point of the video. The video was so much fun to make! We were a team of six filming the video at St George's Inn in Thornbury over two nights. It was all very thoughtfully planned, however there were some last-minute changes with the crew, which gave it a very spontaneous feeling! The lighting setup was extensive, thanks to Mike Ridley. We were able to sync the lighting with the rhythm of the song".
A lover of busy cities, the creative process, Gustav Klimt and the colour red, Emily's enchanting flair as an artist ultimately stems from her love for life and a constant pursuit to challenge herself, and Humming Heart is a sublime and elegant addition to her ever-evolving journey.
Humming Heart is out today, Thursday November 10.
A warm and lucid bundle of smooth alt-country swoon, the brand new track Blue Wildflowers out today from Melbourne singer-songwriter Rich Webb marks a third peek into Rich's upcoming fifth full-length album RIGHT!, set for release on December 9. An immersive amalgamation of the likes of Bob Dylan, apologies and lost loves, Blue Wildflowers will be witnessed live in action in Brunswick at the Union Hotel on Saturday December 10, as part of a special album launch show to celebrate all things RIGHT!.
Blue Wildflowers unfurls like a gossamer flower petal on a warm summer's day, with nods to artists Rich himself holds in high esteem, including Sparklehorse, Bob Dylan, Patty Griffin, Silver Jews, John Prine, Vic Chesnutt and, a recent addition to Rich's listening repertoire, American singer-songwriter Kevin Morby. Penned as an intimate atonement and a timely reminder, stemming from personal experiences, Blue Wildflowersis a bittersweet yet lolling rumination for both Rich personally and the broader audience, as Rich explains, "It's in many ways an apology song – to a few people broadly, but one lovely person in particular that I didn't treat as well as I should have done. Not saying on any level that everything was my fault – that's not true and never can be – but when beautiful things turn sour for whatever reason, you have a responsibility as part of it. It takes two to make something work and grow – you both need to nurture what you have. And I could have done a lot of things better and been more careful and protective of the relationship and love we had. I wanted to say sorry for that – for being so careless and reckless with something as delicate and pure as that kind of rare love. More broadly also, I have tended to be a bit like that through much of my life too and I also wanted to get this song down – like a tattoo or something – to try and remind me not to behave like that in the future. So I won't forget and fuck up again, or something like that. To remind me to appreciate the moment and the great things I have in my life and to think more before jumping off a cliff in search of something else."
Produced by Rohan Sforcina, Rich Webb and Phil Wakeman, Blue Wildflowers was itself a significant catalyst for its overarching album RIGHT!, with Rich and Rohan bottling lightning early on in the process via the track, as Rich reveals, "Blue Wildflowers is the third single from the new album RIGHT!, the lead track and I reckon the heart and soul of the record. I wrote this song first and as soon as it dropped out, I thought it was too good not to do something with. It kind of shaped the rest of the songs that followed, and the sound of the record as a whole. I think I got some cred with producer Rohan Sforcina with it too, as he seemed to like it and it was one of the songs we tried on the first day… and that helped form the bond we needed to make the thing, and a strong one it is too. It's a pretty important song for me, and something I felt I needed to do. I'm proud of it on so many levels."
The accompanying video for Blue Wildflowers perfectly complements the warm and billowing sonic tapestry weaving throughout, with Richteaming up with good friends Matthew Lawes-Wickwar and Louis C Brandt to bring the music video to fruition. Capturing a real-life road trip for Rich, his family and crew, the end result is equally genuine and grounding, with the filming experience also celebrating the beauty of country Victoria, as Rich shares, "The idea was simple – a road trip into country Victoria for three days – and to film whatever we fancied along the way. Louis jumped in a hire car with me and a load of camera equipment, and my partner Emma and our two boys jumped in our car and we set off. It ended up being the most amazing trip – a hell of a lot of fun, some stunning images, an absolute pleasure to get out of town and everyone we met along the way was so positive and upbeat. I came back full of that positivity and just pleased we'd got out there for three days – it's such a wonderfully beautiful and intense country we live in. There were two real highlights – Lake Tyrrell at dawn, an inland salt lake in the Mallee part of north-west Victoria, which was cosmically beautiful – that's where the surreal pink-tinged footage came from in the middle of the clip … it was quite an amazing experience… and The Victoria Hotel in Dimboola, which was a totally rad place to stay – that's where the back end of the video was shot. Wow, it's beautiful out there!".
Named RIGHT! after Rich's catchphrase when he wants to get something done, the new album builds yet diverts from Rich's previous release Le Rayon Vert, with the 2018 album scooping up 2019's Alt-Country Album of the Year at the Independent Music Awards. After fiddling with ideas on and off for a while, Rich decided to create RIGHT! locally, with different equipment and ultimately sought to shake up his modus operandi – and the rest, as they say, is history. Buoyed by the creation of RIGHT!'s opening track Blue Wildflowers early on in the album journey, RIGHT!covers everything from the maudlin swaying nostalgia laced with trumpets on Love Someone to the glistening drive of I Don't Mind At All (Bring On Summer), mellow yet upbeat twangs (50 Miles), stripped-back bluesy tranquility (You're Always Here In My Mind), oozing jazzy arrangements laden with electronic guitar (The Last Rowdy Hour), emphatic narratives (Nothing To Lose), toe-tappin' gems (Shapeshifter) and soaring odes (Dead City). With Rohan also recording and mixing RIGHT! alongside producing duties, RIGHT! was mastered by Pete Lyman in Nashville, who has previously worked with the likes of Chris Stapleton, Tom Waits, Weezer and Panic! At The Disco. And starting life with Rich exploring ideas armed with nothing but his voice and a guitar, the time could not be more right for Rich to finally share his latest creation with the world, as he says, "In many ways it feels a long time coming, even though it hasn't been that long really. It's the anticipation I reckon – you put your whole self into making a record and from the moment the last note is locked in, can't wait to get it out there. Time seems to go so very slow and then, finally, it's a happening thing!".
Already a critically acclaimed fixture in the Australian music industry, Rich has repeatedly been favourably compared to some of the singer-songwriter greats like Bob Dylan and Bruce Springsteen, with his recent releases scoring attention from Rolling Stone Australia, Beat Magazine and Music Feeds. A tried-and-true troubadour eternally in command of his craft and lyricism, Rich previously took out both Alt-Country Album Of The Year and Alt-Country Single Of The Year at the Independent Music Awards in New York in 2019 for Le Rayon Vert and Let Out Rainrespectively. More recently, Rich turned his gaze to raise awareness about the treatment of asylum seekers on his powerful single Love Someone, delivering not just a stunning musical triumph but also a hard-hitting message that all humans deserve to live peacefully, whoever they are, and wherever they're from. Rich's genuine delivery and sharpened musicality has seen him embraced around the globe throughout his career; and 2022 is only set to further the Rich Webb story to even greater heights.
Fresh off performing at Brunswick Artists' Bar in Victoria in late October, Rich will launch RIGHT! officially live onstage on Saturday December 10 at Union Hotel in Brunswick, and these shows will perfectly capture the beautiful essence of the album's nine tracks, as Rich concludes, "The album launch will be the record, played like it was written – and with joy and energy of getting it all together. I will be playing with a cracking band including Matt Dixon on guitar and Jim Carden on drums, both of whom are on the record, and Alics Gate-Eastley on bass, plus a few special guests too. It's going to be great fun!".
Blue Wildflowers is out today, Tuesday November 8.
Right! is due for release on Friday December 9.
RICH WEBB – UPCOMING TOUR DATES:
SAT 10 DEC | UNION HOTEL, BRUNSWICK VIC | 18+
Album launch – from 5pm, free admission